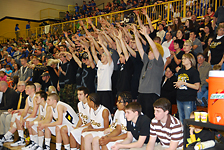 The Clay County Tiger (21 – 9) took to the court in front of a near capacity crowd at Bobby Keith Gymnasium Saturday night and came away with a 67 – 51 victory over the North Laurel Jaguars (15 – 15) in the 49th District Championship Game.
 The win marks the first 49th District Championship for first-year Head Coach, Robert Marcum.
 "To be here as a player and come back and win as a coach is very special," said Marcum. "I'll always remember this team."
"It's the first team I coached and I'll always remember them," he said.
The team came out a bit sluggish to start the game and let the Jaguars take an early 6 – 2 lead that was short lived.
Back-to-back 3-pointers by Codi Roberts with just over three minutes to go in the first quarter gave the Tigers a lead that they would never relinquish at 12 – 8.
The strong play of J. V. Hooker and Matt Mitchell helped the Tigers push their lead to 37 – 25 at the break. Both Hooker and Mitchell have been nursing nagging injuries lately.
"J.V. hadn't really played a game for about three weeks because of his knee," said coach Marcum. "This was his first game back, and it was impressive."
"Matt has an ankle injury, and he's about 95 percent right now, and he's still trying to get back" said Marcum.
"We played him out of position a little bit, but he played hard for us, played good defense, and rebounded the ball well for us," Marcum said.
Hooker led the Tigers in scoring with 13 points, while Mitchell finished the night with 12 points. 
The Jaguars looked like they might make a game of it when they trimmed the Tigers' lead to 10 points at 47 – 37 to end the third quarter. The Jaguars' Cody Likins scored seven of his 14 points in the quarter.
But the strong play of Tyler "Chip" McDaniel and another pair of 3-pointers by Codi Roberts sealed the victory for the Tigers. McDaniel finished the night with 10 points. Roberts had 12 points on four 3-pointers.
"It was a great atmosphere, which I knew it would be," said Marcum. "North Laurel is a heck of a basketball team,"
"I think we're bringing two good teams to the Region this year," he said. "It was a great win for our program and for these kids."
Tigers—J. V. Hooker 13, M. Mitchell 12, C. Roberts 12, A. Gay 9, Z. McGeorge 5, T. McDaniel 10, A. Whitaker 5, S. Wagers 1
Jaguars—M. Carson 15, C. Linkins 14, J. Allen 10, L. Spencer 6, E. Eversole 1, R. Shears 4, K. Henson 1
Tigers 20 17 10 20_67
Jaguars 14 11 12 14_51