Curious about ClayCoNews?
----------------------------------------------
* VISIT/ LIKE OUR FB PAGE*
__________________________
- CONNECT WITH US -
Send: News tips
& Press releases to:
editor@klaykonews.com
Knox-Whitley Animal Shelter
606-526-6925 or 606-546-2815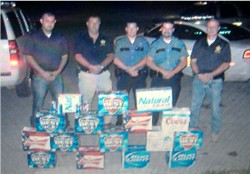 Knox County Sheriff John Pickard and deputies confiscated beer and cash after executing a search warrant at a residence located on Lick Branch Road in Flatlick.
The raid was conducted at the residence of Carl and Jeannie Merida.
Confiscated were:  371 cans of beer and an undisclosed amount of cash.
The warrants stemmed from investigations conducted by Chief Deputy Derek Eubanks.
Arrested and charged with the Illegal Sale Of Alcohol In A Dry Territory was:  Jeannie Merida age 53.