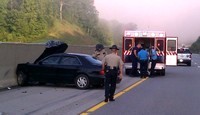 Sheriff John Root is reporting that Laurel Sheriff's Deputy James Sizemore is investigating a one vehicle injury traffic crash which occurred on I-75, 8 miles north of London on Thursday morning (8-16-2012) at 8:15 A.M. in the northbound lanes.
Apparently a Mazda car was traveling northbound on I-75 when the driver came upon a slow moving vehicle. The Mazda tried to slow down, but the brakes failed.
The Mazda's driver then applied his emergency brake, however that action caused the vehicles brakes to lock up, sending the car out of control and into the concrete barrier that divides the median.
Injured in the crash was the driver, Rauston Rapier age 29 of Hancock Ave, Corbin with multiple serious injuries. His wife, Tiffany Rapier age 23 received serious head injuries. Their 3 month old male son, who was in a child safety seat, was uninjured.
Ambulance Inc. Of Laurel County transported the injured to St. Joseph Hospital Of London.
Assisting at the scene was: Deputy John Inman, Deputy Gilbert Acciardo and Trooper John Barnett.
Pictured is the crash site