London, KY - Sheriff John Root is reporting that: the Laurel County Sheriff's Office K-9 handler Deputy Daniel Grigsby along with his K-9 "Edge" and accompanied by Laurel Sheriff's Office K-9 trainer Cindy Cobb traveled to Cookeville, Tennessee this week and successfully completed their yearly NAPWDA (North American Police Working Dog Association) certification by completing all the requirements to be classified as a full K-9 utility dog.
The team was certified in the following areas including narcotics detection, obedience, aggression control, building search, area search, article search, and tracking.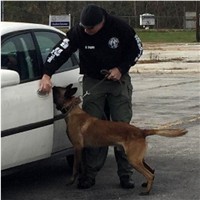 LSO's K-9 is a Belgian Malinois.
Sheriff Root stated that "Our K-9 team plays a vital role in our "War on Drugs".
In addition, this K-9 team is a vital part of the Sheriff's office, and is a valuable asset to the citizens of Laurel County. They respond to calls for service and are a specialized team whose specific skills are a critical asset to the Laurel County Sheriff's Office."
Pictured is Laurel Sheriff's Deputy Daniel Grigsby and his K-9 "Edge", and a picture from the certification process along with a group picture of other officers attending the certification in Cookeville, TN.