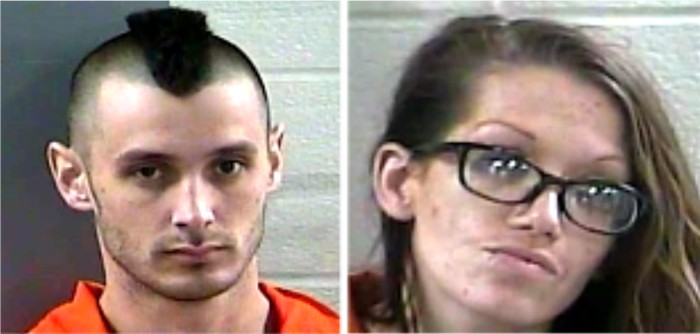 Laurel County, KY - Sheriff John Root is reporting that: Laurel Sheriff's Detective Chris Edwards along with Deputy Byron Lawson arrested two individuals on Maplesville road, approximately 4 miles east of London on Monday afternoon November 20, 2017 at approximately 1:47 PM.
The arrest occurred after a red Chevrolet pickup was observed with an improper tag on it and a traffic stop was conducted where the driver was determined to be under the influence. A passenger in the vehicle was determined to be under the influence. The passenger was found in possession of several needles that she stated she was using to shoot Suboxone.
The two arrested individuals were identified as:
The driver of the vehicle Anthony Shepherd age 26 of Salem subdivision, London charged with operating a motor vehicle under the influence – second offense; driving on DUI suspended license – first offense; failure to wear seatbelts; no registration plates; and numerous other traffic violations
The passenger in the vehicle Kellie Jo Baker age 27 West Carter Road, London charged with possession of drug paraphernalia and public intoxication – controlled substances
These two individuals were lodged in the Laurel County Detention Center.
Photos attached are courtesy of the Laurel County Detention Center.