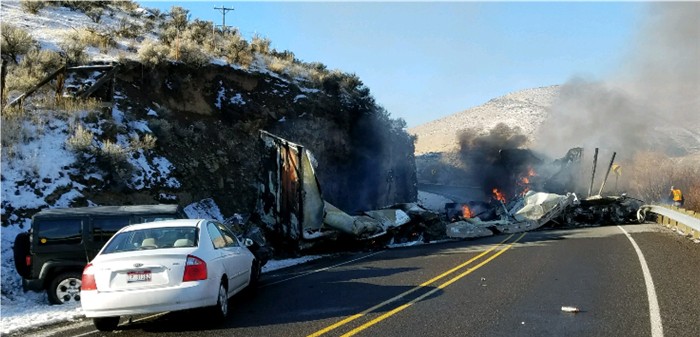 On December 30, 2017 at approximately 9:10 a.m. (MT), Oregon State Police (OSP) troopers responded to a double fatal motor vehicle crash on US 20 at milepost 216 west of Harper, which is in Malheur County, Oregon.
Preliminary investigation revealed a commercial truck and trailer was traveling eastbound on US 20 near milepost 216, when for an unknown reason the vehicle entered the westbound lane of travel and into the path of a commercial truck and trailer that was traveling westbound. The two commercial vehicles collided head on and burst into flames. The westbound commercial vehicle was followed by a green Jeep Wrangler and a white Kia Spectra. The Jeep collided into the rear trailer of the westbound commercial vehicle and the Kia struck the rear of the Jeep. Airbags deployed on both passenger vehicles. No injuries were reported by the lone drivers' of the passenger vehicles. The driver and sole occupant of each commercial vehicle were confirmed deceased at the scene.
As of 7:30pm (MT), US 20 remains closed as the commercial vehicles are still burning. Approximately, 400 gallons of diesel spilled onto the roadway.
Next of kin notifications have been made for both CMV driver's. No names will be released at this time to allow the families time for additional notifications.
This is an ongoing investigation. Speed and weather conditions are believed to be contributing factors in the crash.
OSP were assisted by the Malheur County Sheriff's Office, Oregon Department of Transportation, Ontario Fire and Rescue, Ontario Haz-Mat, Vale Fire and Rescue, Steve Rich Environmental Services and Haren-Wood Funeral Chapel.
Photograph courtesy of OSP.