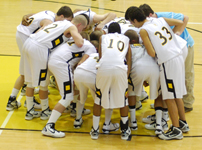 Stevie Ray Vaughn used to sing, "If the house is a rockin' don't bother knockin'." Well the Tigers (20 – 9) certainly had Bobby Keith Gymnasium rockin' in a lopsided 108 – 26 victory over the undermanned Red Bird Cardinals (7 – 12) on a night when most Cardinals fans probably wish they hadn't come knockin'.
The 82-point spread in Wednesday night's 49th District Tournament game was the largest margin of victory for the Tigers and the first time the team hit the triple digit mark in scoring this season.
The margin of victory was even a bit of a surprise to the Tigers' Head Coach, Robert Marcum.
"I don't think anybody expects to win by that much," said Coach Marcum. "But Red Bird only has seven kids on the team and that's a small school," he continued.
"I have a lot of respect for them, and I have a lot or respect for their coach," Marcum said.
The Tigers opened up a 29 – 10 first quarter lead and that was as close as the Cardinals would ever get in a game in which the Tigers never trailed.
Coach Marcum started substituting midway through the first quarter, and short of sending a few of his own players to the Red Bird side, there was little more he could do to give the Cardinals a chance.
"We went back in our 2-3 zone, and tried to not push it down the floor after we got settled in," said Marcum. "We just had a great night shooting."
Matt Mitchell led the scoring feast with 16 points on a night when 13 of the Tigers players contributed points in the victory.
"It seems like that stuff is contagious," said Marcum. "When you're on a roll with a big lead, it seems like a lot of kids who don't make 3s start making 3s and it was a good night for us," he said.
One of the dangers of being on the winning side of such a lopsided victory is the chance that players will get overconfident and overlook their next opponent. But Coach Marcum has no intention of letting that happen.
"That's my job to go in there and make sure we enjoy this one tonight, scout the next game coming up and figure out what we need to do to win the District Championship," said Marcum. "That's our goal."
The Tigers will get that chance this Saturday night when they take on the North Laurel Jaguars, who defeated Jackson County 65 – 59 in the second game of the night.
 The Tigers and Jaguars split their regular season series, with the Jaguars taking a 12-point victory at Corbin during the Cumberland Valley Invitational and the Tigers winning by 11 points at home last month.
Saturday's Championship game will get under way at 7:00 PM.
TIGERS—M. Mitchell 16, A. Gay 12, C. Roberts, 10 Z. McGeorge 8, S. Wagers 6, T. McDaniel 10, K. Reed 9, A. Whitaker 8, J. White 8, S. Lyttle 8, Z. Kemp 6, B. Word 5, E. Horton 2
CARDINALS—E. Young 14, F. Phipps 5, M. Collett 4, B. Halcomb 3
Tigers 29 28 27 24_108
Cardinals 10 4 2 10_26