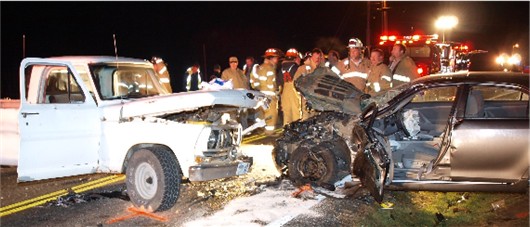 Sheriff John Root is reporting that Laurel Sheriff's Deputy Robbie Grimes , along with Chief Deputy Eddy Sizemore, and Deputy Josh Scott are investigating a two vehicle injury traffic crash which occurred 3 miles east of London on Ky 80 near Tom Cat Trail roadway on Tuesday night (1-8-2013) at approx . 9:20 P.M..
Apparently, a 1971 Ford pickup operated by John E. Napier age 46 of Middlesboro was west bound on Ky 80, when he swerved into the eastbound Lane and struck a 2009 Toyota Camry headon.
The driver of the camry was identified as: Stacy R. Torres age 51 of Rudder Street London. Torres was taken by Ambulance Inc. Of Laurel County to St. Joseph Hospital London For treatment of non life threatening injuries.
Napier was flown from the scene to UK hospital, in Lexington with serious injuries.
Investigators learned that a witness had followed the Ford pickup for several miles, and it reportedly was all over the road weaving badly. The driver of the pickup told on scene emergency responders that he had drank 8 beers prior to the crash.
Deputy Grimes is continuing his investigation into the crash.
Charges against the driver of the pickup are pending test results, and the ongoing investigation. London–Laurel County Rescue Squad and Bush Volunteer Fire Department assisted at the scene.
Pictured is the crash scene.