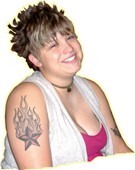 Manchester, KY - Regardless of conflicting local radio and newspaper reports as to when country music outlaw Sam Roark "Honky Tonk Angel" will be on stage during the Clay County Days Festival,-- ClayCoNews has the scoop!...The "Honky Tonk Angel" will be large and in charge in Manchester tonight.
Outlaw?
Sam said "I am who I am and I love you all!
I just finished making my 2nd professional music video, "Clank Clank", on Sunday August 18, 2013, My first was a remake of Dolly Parton's "Jolene, it was finished on July 13, 2013
Three of my Manchester buddys, Larry "Blue" Hensley, Carl David Crawford, and Robert Reid appeared in my latest video "Clank Clank" for which I wrote the song.
All three said they had a blast with my "Honky Tonk Angel" gang and are looking forward to seeing my video on Country Music TV".
Roark's producer Kenny Lee said "The future in country music is very bright for Sam! She has had all three of her previously released singles make the Top 10 of several major country music charts".
Sam performed at Nashville's CMA Fanfest in early June of this year and is scheduled to be back in Clay County, KY on tonight August 30, 2013.
She says that her producer along with several more of her talented "Music City" friends are planning on making the trip to Manchester with her.
Roark said " I'm looking forward to being back home and performing again for all my friends and fans in southeast Kentucky"! http://www.cdbaby.com/cd/samantharoark
Can you spot "Blue", "C.D." and Robert in the  "Clank Clank" video?