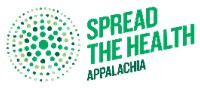 "My experience with Team Up 4 Health was extraordinary…I really feel like [it] saved my life," reflects Mr. Charles Allen, a participant in Team Up 4 Health, the pilot Microclinic Program (MCP) in Bell County.
Today, more and more people across the Cumberland Valley region of southeastern Kentucky who struggle with or are at risk of developing a chronic condition like diabetes, heart disease or obesity will be able to have this life-changing experience too.
In February and March of this year, Microclinic International (MCI), the organization that designed the MCP, held trainings and certified facilitators from Bell, Clay, Jackson, Knox, Rockcastle, and Whitley counties to bring the innovative and successful program to their communities.
Based on the idea that health can be contagious, the MCP leverages social networks – people's naturally existing support systems including family, friends, coworkers or neighbors – to prevent and manage chronic conditions.  With overwhelming success and an ever-growing waitlist in Bell County, MCI and the new facilitators expect to start seeing health improvements across the region as programs get up and running in the coming months.
Leila Makarechi, MCI Chief Operating Office who was in Kentucky for the trainings, elaborated on the program model, "We have shown that if negative behaviors like smoking and overeating can be contagious, so can positive, healthy ones. The MCP builds on what we call 'contagious health,' a concept that has proven successful here in Bell and around the world."
Angie Partin, a newly trained MCP facilitator and an employee of the federal prison, stated, "The possibilities will be endless.  Lots of communities and families will be healthier once the inmates and offenders return back into society because of the Microclinic model and contagious health."
Chronic diseases are common, costly, and often avoidable. And, the burden of chronic conditions is particularly high in the Cumberland Valley area.  Diabetes and obesity rates in local counties far exceed national averages, more than one third of adults are obese and one in seven are diabetic.  Although the statistics are daunting, diabetes and obesity are preventable through lifestyle changes.
The interactive MCP curriculum provides participants with important information on how to prevent and manage chronic conditions by encouraging healthy lifestyle habits.  Leigh Ann Baker, one of the leaders of the training and the facilitator of the Bell County MCP, said, "It is really incredible the transformations you see with the class.  We go over strategies to eat and live healthier and support participants as they make life saving changes."
The newly trained facilitators are excited to start programs around the Cumberland Valley and hope to replicate the impressive results seen in Bell County and improve health in their communities. Partin summed up her experience at the training, "I am very excited to take the curriculum back and get started forming Microclinics!"
To find a new Microclinic Program in your community, send an email to kentuckyMCP@microclinics.org.