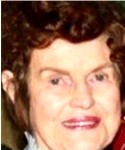 TAYLOR, Esther Ellen (née: Stacy), 88 of Manchester, KY, died Sunday, October 29, 2017. Born to Melvin and Lizzie (née: Howard) Stacy on April 20, 1929 in Canoe, KY. Esther enjoyed sewing, cooking and collecting dolls. She was a member of the Eastern Star, a lifelong member of Corinth Baptist Church and Salem Baptist Church. Esther adored her family and friends. "She was the glue that held this family together. Our saved by the grace angel has went to heaven to watch over us."
Preceded in death by her parents, her husband, John E. Taylor, two sons, Randel and Ernie Taylor, two brothers, one sister and three grandchildren, Kevin, Heather and Michael.
Esther is survived by her son, Jerry (Sylvia) Taylor of Ross, daughter, Elizabeth (Jimmie) Hatter of Williamsburg, two sisters, Blanche Pilkington and Laura McIntosh, four grandchildren, Scott, Kim, Rusty and Thad and several great-grandchildren.
A visitation will be held on Wednesday, November 1st from 5:00-9:00 P.M. at Vale-Hoskins Funeral Home, Morrow. Eastern Star service will be at 5:30 P.M.
A second visitation will be held on Friday, November 3rd from 10:00-12:00 noon with a funeral service at 12:00 noon -all at Britton Funeral Home in Manchester, KY.
Interment in Taylor Family Cemetery.
Online condolences to www.hoskinsfh.com