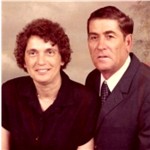 Mr. R.J. Marcum Jr., born on Wednesday, February, 26th, 1930 departed this life on Saturday, December 23rd, 2017 at his residence in Manchester, KY.
R.J. was born in Manchester, KY the son of the late Roscoe Marcum Sr. and the late Cleo Marcum.
Other than his parents R.J. wsa preceded in death by his wife of 47 years Jessie Marcum; two brothers Woodrow Jones and Bill Jones and one sister Marian Marcum.
R.J. leaves the following relatives to cheris his memory: two daugthers Norma Kaye Bowling (Earl), of Combs, KY, Ardana Hacker (Bobby), of London, KY, and one son Roscoe Marcum III, (Tammy), of Manchester, KY, seven sisters: Maude Savage, Monroe Ohio, Florence Terhune, Fairmount, IN, Mae Sibert, London, KY, Marjorie Rice, Elizabeth Carnahan, Lucille Webb, and Verna Wooton, of Manchester, KY. Seven Grandchildren Heather Carpenter, Hollie Smallwood, Whitney K. Bowling, Lacy Marcum, Lexie Marcum, Jameson Marcum, and Jonas Marcum. 3 great grandchildren: Brianna and Colin Carpenter and Cayden Smallwood.
He also leaves behind a special cousin and caregiver Woody Montoya, a host of Nieces, nephews, and other relatives and friends.
R.J. was a member of the Manchester Masonic Lodge.
The Funeral Service for R.J. will be held 1 PM Thursday December 28th, 2017at the Britton Funeral Home Chapel. Burial will follow in the Harts Branch Cemetery at Manchester. Visitation will be after 6 PM Wednesday December 27th, 2017 at the Britton Funeral Home Chapel.
Britton Funeral Home is in charge of the arrangements.