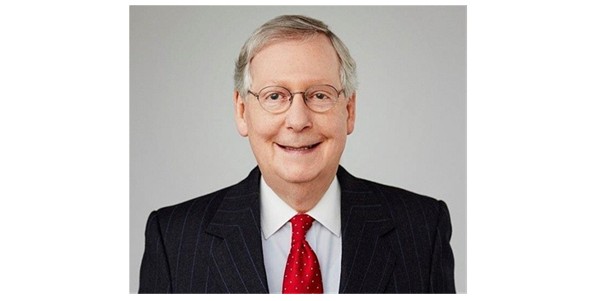 U.S. Senate Majority Leader Mitch McConnell
WASHINGTON, D.C. — U.S. Senate Majority Leader Mitch McConnell (R-KY) applauded today President Donald Trump's decision to approve Kentucky's request for a Federal Major Disaster Declaration as the Commonwealth responds to the spread of the Coronavirus.
"The additional federal resources this declaration makes available will help communities across Kentucky continue responding to the Coronavirus. I'm grateful President Trump quickly answered our bipartisan call to deliver this vital assistance," said Senator McConnell. "As Senate Majority Leader, I'm working with President Trump and the members of his Cabinet to help Kentucky receive the necessary supplies and funding to care for those in need. We should all listen to the experts and continue looking for ways to help our fellow Kentuckians. I'm inspired by the generosity shown by the people of this great country, and I know we'll make it through this crisis."
Earlier this week, every member of the Kentucky's Congressional delegation signed a letter urging the President to approve Governor Andy Beshear's request for additional federal assistance through the Federal Emergency Management Agency (FEMA).
Senator McConnell introduced the Coronavirus Aid, Relief, and Economic Security (CARES) Act, and was at the White House yesterday as President Trump signed the bill into law. The legislation takes bold action on four urgent priorities. The CARES Act directs financial help for the American people, provides rapid relief for small businesses and their employees, takes significant steps to stabilize our economy and protect jobs, and delivers more support for the brave healthcare professionals and the patients who are fighting the coronavirus on the front lines. The CARES Act also included $45 billion for the FEMA disaster relief fund.
###