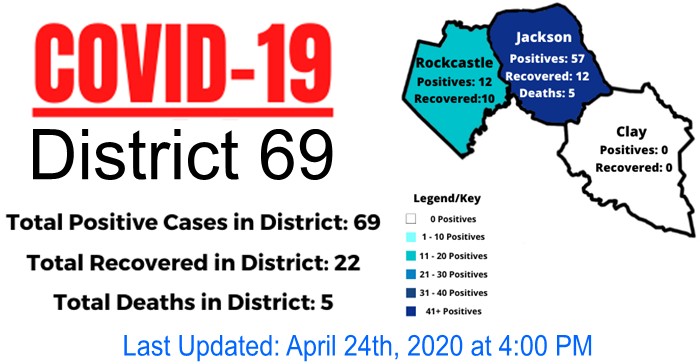 Manchester, KY (April 25, 2020) - On Friday the Cumberland Valley District Health Department reported that: As of 4:00 pm, April 24th, we are saddened to report our 5th COVID-19 related death.
The individual, a 79-year-old female, was a resident of Jackson Manor. Further details are being withheld out of respect for the family's privacy.
There is 1 new confirmed COVID-19 case in Jackson County. It is not related to Jackson Manor. Currently, there are 6 cases not related to Jackson Manor in Jackson County.
1 person in Jackson County (not related to Jackson Manor) and 1 person in Rockcastle County have recovered today.
There are no new confirmed cases of COVID-19 for Clay County and Rockcastle County today.
For more information, please view our press releases at https://cvdhealthdept.com/covid-19-updates/covid-19-press-releases/