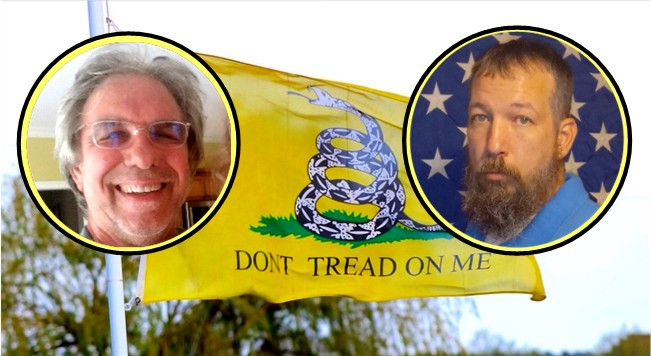 Doug Phelps, Brent Willoughby and the historical Gadsden flag
MANCHESTER, KY (July 31, 2022) ClayCoNews Commentary - In the attached video you will see and hear the opinions and comments of two gentlemen who continue to document the demise of the Hoskins Cemetery.
Doug Phelps is a true amateur historian who donates his time and money preserving cemeteries and the headstones within them. His dedication to this cause has even led to the discovery of multiple graves not contained within cemeteries, the locating of cemeteries thought forgotten and the research and implementation of practices used to properly document earlier generations so that future generations may benefit.

Brent Willoughby is a disabled veteran who has interests in the law, journalism, biblical studies and military history. He donates his time to various causes in an attempt to pay respect to those service members who paid the ultimate sacrifice for our freedoms. Lest we forget.
We here at ClayCoNews consider their efforts to be worthwhile and we appreciate the contributions they provide in an effort to shine light on topics concerning our community. We do not endorse their comments in any way but we do support their constitutionally guaranteed right of free speech to express those comments and opinions.
Speaking of free speech, we do not limit comments on our Facebook page or control who can see those comments. We have always encouraged respectful debate in an effort to support the expansion of greater knowledge. We would ask that people refrain from personal attacks and demeaning one another. Those types of behavior detract from the topics at hand and make obtaining the truth more difficult.
We would also like to remind our viewers that ClayCoNews will always be a free source of news and information. No subscription required however donations are accepted.
"Hoskins Cemetery 7 Reburials" (Video credit: Douglas Phelps)
PHOTO: According to Wikipedia, the free encyclopedia, the Gadsden flag is a historical American flag named after politician Christopher Gadsden (1724–1805), who designed it in 1775 during the American Revolution.