By CCN Staff / October 23, 2022
Today we want to take a few minutes and address an issue that has been at the forefront of our minds over the past couple of weeks. With Halloween rapidly approaching people need to be extremely cautious this year and we would like to explain why. Please take just a few moments of your time to read this. It could possibly even help save a life.
Tales of dark and nefarious activity, or the possibility thereof, are part of the lore that makes Halloween appealing to so many. Haunted houses, ghost stories, and all things spooky have become parts of the normal celebration during this time of year. These things are in "good fun" and most people hardly give them a second thought throughout the rest of the year.
The truth is there are "real monsters" amongst us, and they peddle in drugs and death. A few months ago, ClayCoNews became aware of a new type of fentanyl being referred to as "rainbow" or "candy" fentanyl. While many experts in respective fields are still undecided about the true intentions behind the coloring of the deadly drug, it is important to note that this makes the drug much easier to disguise.
The vast majority of fentanyl flooding our country today is in the form of counterfeit Percocet (Analgesic Opioid Oxycodone Combination) pills and are labeled M-30, but there are also large seizures of powder form fentanyl as well as colored fentanyl on record. Pictures that we have encountered would suggest that rainbow fentanyl is a chalk-like substance and if pressed into pill form void of markings it would most closely resemble sweet tarts or smarties candy.
Earlier this month on Tuesday, October 4, 2022, the United States Drug Enforcement Administration (DEA) announced the discovery of colored fentanyl pills in a LEGO box in New York. Now we are no experts, but a brightly colored drug that resembles candy being shipped inside a child's toy box would suggest to us that children are being targeted. In the eyes of the drug cartels who manufacture, smuggle, and traffic this poison we are all targets.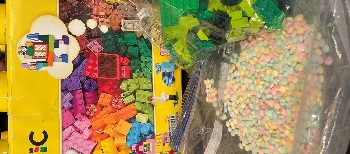 Colored Fentanyl Found in Lego Box in New York (Credit: DEA)
Just a few days ago on Wednesday October 19, 2022, The Los Angeles County Sheriff's Department discovered counterfeit Percocet pills that were hidden inside of candy boxes. While the fentanyl itself was not altered in any way to take on the appearance of the candy that would normally be inside those boxes it does show a disturbing trend. What could happen if fentanyl is produced that does imitate the candy that is supposed to be inside? It is important to note that some of the packages seized during this event were "sealed."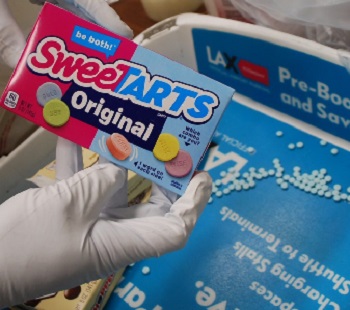 Fentanyl Pills Found in Candy Box at LAX (Credit: Los Angeles County Sheriff's Department)
We wanted to share this information with you in an effort to help our community be better informed and we hope our readers will share this information with everyone they know. Knowledge is the power that is necessary to safeguard ourselves against this deadly killer. During this year's Halloween festivities, we would encourage all individuals and especially parents to remain vigilant. Only accept candy for you and your children from trusted sources. Inspect all candy and packaging regardless of the source. Let's all work together to prevent a real-life horror story. STAY SAFE!
Thank you for your time and consideration,
ClayCoNews Team