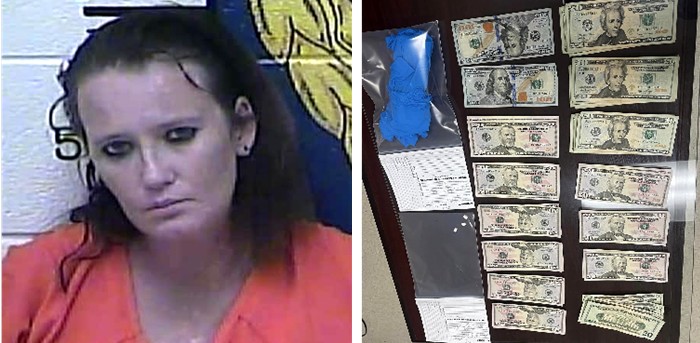 MANCHESTER, KY (January 21, 2023) - According to information in a Facebook post from the Manchester Police Department: On Tuesday, January 17th 2023, at approximately 9:47 A.M., MPD Chief Jeff Couch and Assistant Chief Antonio Dodson received a call through the Clay County 911 Center regarding a possible vehicle over an embankment at the Manchester Shopping Center off Richmond Road.
Upon arrival, Officers on scene gathered additional information that concluded, an unknown male driver with a single cab Toyota pickup had assisted in pulling a blue Hyundai Sonata out of the ditch there.
While doing so the Hyundai Sonata had struck two vehicles that were parked and unoccupied, causing damage to areas of impact on the vehicles.
The driver of the Sonata, Cynthia L. Neal, was located a short distance away in the parking lot next to the scene.
Assistant Chief Antonio Dodson observed the female to be manifestly under the influence of Drugs etc. at that point the subject was arrested and taken into custody.
While inside Officer Dodson's patrol vehicle the female attempted to conceal three white bars believed to be Xanax. This subject was then transported to the Clay County Detention Center.
According to MPD, once inside CCDC, female Deputy Jailer Jennifer Bush searched Neal and located a milky crystal rock on Neal's person at which time Neal nervously stated it was Fentanyl.
MPD makes no other mention on the Facebook page in regards to the arrested female subject, cash/contraband pictured or charges etc.
In connection to this incident:
On January17, 2023 at 11:01:00 P.M., Busted Newspaper reported that Cynthia Neal age 37 of Louisville, KY was arrested by Manchester Police and booked into the Clay County Detention Center on Tuesday, January 17, 2023.
Cynthia Neal was charged with:
POSS CONT SUB, 1ST DEGREE, 2ND OFFENSE - DRUG UNSPECIFIED
TRAF IN CONT SUB 1ST OFFENSE
WANTON ENDANGERMENT-1ST DEGREE
PUBLIC INTOXICATION-CONTROLL SUB(EXCLUDES ALCOHOL)
Photos of the accused and the appparently seized cash/contraband are from the Manchester Police Department's Facebook page.