Laurel County, Ky. - Sheriff John Root is reporting that: Sgt. Greg Poynter along with Deputy Hunter Disney arrested Devin M. Vandemark age 28 of Wells Dr., London on Friday evening March 29, 2019 at approximately 5:21 PM.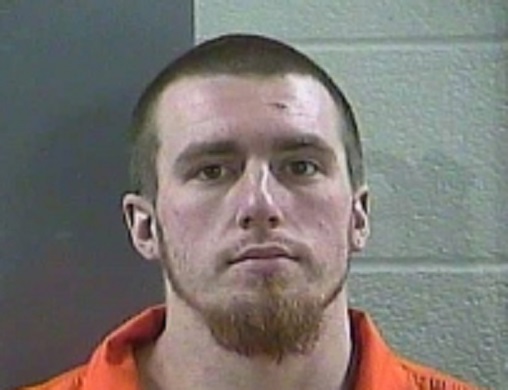 The arrest occurred off Wells Drive approximately 10 miles South of London while deputies were investigating a complaint of a subject refusing to leave a residence there as called in by the homeowners.
Upon arrival at the scene, deputies located the suspect and attempted to serve an EPO/DVO on the subject. The subject became extremely agitated toward deputies refusing to leave and created a disturbance yelling obscenities.
Upon arrest, this subject became combative scuffling with deputies and during the struggle with deputies caused serious injury to Sgt. Greg Poynter's hand.
This individual continued to fight and resist and attempted to flee on foot but was taken into custody.
Devin Vandemark was charged with: resisting arrest; disorderly conduct – second-degree; public intoxication – controlled substances; two counts of assault – second-degree – police officers are the victim; criminal mischief – third-degree; menacing; violation of a Kentucky EPO/DVO; fleeing or evading police – second-degree – on foot.
This individual was lodged in the Laurel County Detention Center.
Photo of accused attached is courtesy of the Laurel County Detention Center.
Sgt. Poynter was treated by Ambulance Inc. of Laurel County and transported to St. Joseph Hospital London for treatment of his injuries.
Also assisting was Detective Kyle Gray, CSO Brent France, CSO Chris Blaylock, and Bailiff Jerry Poynter.