Clay County Sheriff Patrick Robinson is reporting that: On April 14, 2019 at approximately 1:30 AM Clay County Sheriff Deputy Brandon Edwards arrested two individuals during a traffic stop on Highway 80.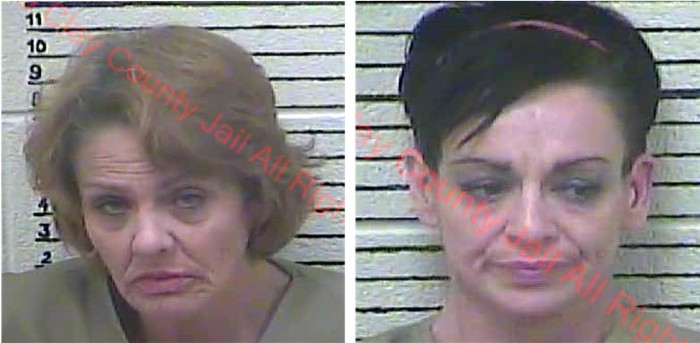 Arrested was: Michelle Mills, 50 of Flat Lick and Deniece Gatewood, 43 of Louisville.
The arrests occurred on Highway 80 when Deputy Edwards initiated a traffic stop on a blue Chevy due to the fact of cancellation of license plate.
When contact was made with the driver, Deputy Edwards determined she was under the influence due to totality of circumstances during field sobriety tests. Once the drivers information was ran through Clay County 911, it was confirmed her license had been suspended. Also, it showed the driver to have two active warrants of arrest out of Knox County District Court.
Also arrested on scene was the passenger for giving Deputy Edwards false name and social, the passenger also stated she had snorted Methamphetamine earlier that date. Through confirmation with Clay County Dispatch it showed the passenger had two active warrants of arrest from Jefferson County District Court.
Through further investigation and search, Deputy Edwards located syringes under the seat of the passenger.
Michelle Mills was charged with:
Serving Bench Warrant for Court
Serving Bench Warrant for Court
Driving on Suspended or Revoked Operator license
Operating Motor Vehicle Under the Influence of ALC/DRUGS/ETC. 1st Offense
Rear License not Illuminated
No Registration Plate
Deniece Gatewood was charged with:
Serving Bench Warrant for Court
Serving Bench Warrant for Court
Giving Officer Fasle Identifying Information
Drug Paraphernalia Buy/Possess
Public Intoxication of Controlled Substance (Excludes Alcohol)
The photos attached are courtesy of the Clay County Detention Center.