STAFF REPORT on March 23, 2019.
MANCHESTER, KY-----A beautiful spring day brought a visit from Kentucky Governor Matt Bevin. The Governor conducted a town hall meeting at the EKU Manchester Campus where constituents had the opportunity to discuss issues directly with the states Chief Executive.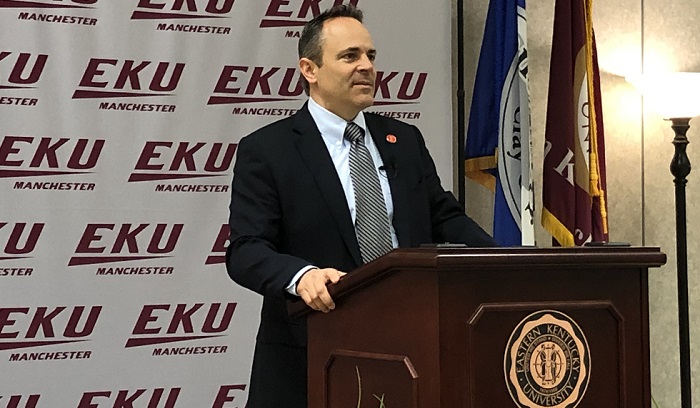 Governor Matt Bevin at EKU Manchester on Saturday afternoon March 23, 2019
Governor Bevin entertained and addressed a number of questions regarding economic opportunity, workforce development, and the economic vitality and surge in capital investments being made in Kentucky.
Bevin spoke about educational programs like the Kentucky Dual Credit Scholarship (KDCS) and the Work Ready Kentucky Scholarship (WRKS) and how those investments help students and families pursue technical training and college credentials that can reduce their financial burden while also helping give them a head start in the right direction.
The Governor spoke eloquently about the need for citizens of the Commonwealth to be personally responsible and if able-bodied that every person should pursue work opportunities and enjoy the dignity and special pride that comes from being a productive member of society, which drew great applause from the crowd. Further still, Bevin, related to the crowd with his own personal life experiences of coming up from modest means and the important lessons he learned from his family about the importance of work ethic.
The Governor outlined a vision for Kentucky to become a preeminent destination for advanced manufacturing and capital investments moving into the future. Bevin touted multi-billion dollar investments that have been made in Kentucky during his first term as well as historically lower unemployment rates for every region in the Commonwealth, but indicated much heavy lifting remains to b done to continue to move Kentucky in a better direction. Other notable mentions included Medicaid Reforms, Pro-Life Legislation, Prison Reforms, and the protection of the 2nd Amendment.
Photo by ClayCoNews staff reporter.