Clay County, Ky. - Sheriff Patrick Robinson is reporting that: On March 24, 2019 at approximately 11:30 AM Clay County Chief Deputy Clifton Jones arrested 2 individuals in the Horse Creek area of the county.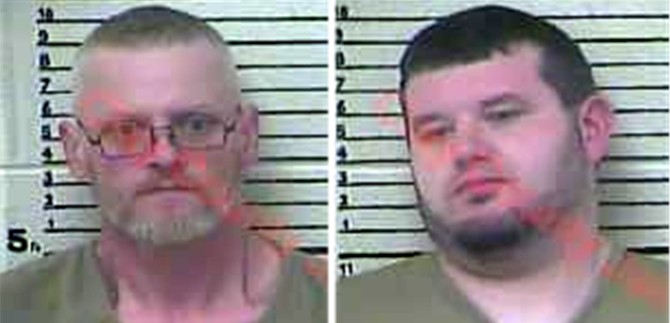 Arrested was:
Johnathan Hibbard age 42 of Paw Paw Road and Kenneth Smith age 30 of Add Hollow Road.
The arrests occurred on Jarvis Branch when Chief Deputy Jones observed a truck enter into a secluded area on Jarvis Branch.
When contact was made with the driver, he showed signs of impairment. Standardized field sobriety test were performed at which through totality of circumstances Chief Deputy Jones determined the driver was operating the motor vehicle under the influence of intoxicants.
The passenger also showed signs of impairment, during the search of the vehicle. Chief Deputy Jones located a pistol concealed under the seat of the truck, the driver claimed ownership of the concealed pistol.
Also, during the search a glass pipe along with a white crystalline powder substance which is believed to be Methamphetamine was located at which time the passenger claimed sole possession of.
The driver was transported to AdventHealth Manchester where he refused to submit blood testing.
Johnathan Hibbard was charged with:
Operating Motor vehicle under the influence of Alc/drugs/etc. .08 1st Degree
Carrying a Concealed Deadly Weapon
Kenneth Smith was charged with:
Possession of Controlled Substance (Drug Unspecified)
Public Intoxication of Controlled Substance (Excludes Alcohol)
Photos attached are courtesy of the Clay County Detention Center.