Clay County, Ky. - The Clay County Sheriff's Office is reporting that: On March 29, 2019 Clay County Sheriff Patrick Robinson along with Clay County Sheriff Deputy Cody Blackwell responded to a complaint of a storage unit broke into on Highway 638.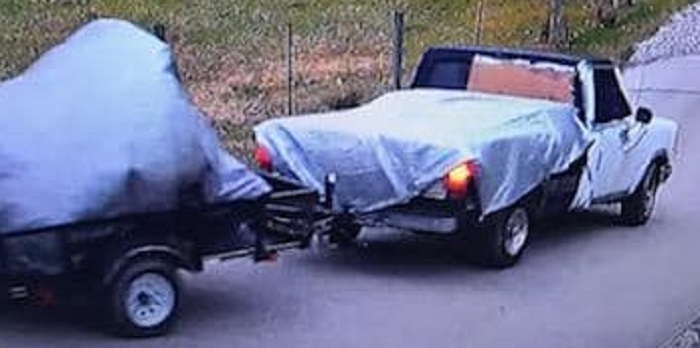 When Sheriff Robinson and Deputy Blackwell arrived on scene they were met by the storage unit owner along with the rental owner.
They stated someone had went straight to the storage unit and cut the lock to the rental unit and took into their possession a 2014 Harley Davidson motorcycle.
After reviewing the camera, the theft occurred on March 21, 2019 at approximately 9:30 AM. It appeared the truck is a blue or black colored long bed pickup possibly a Ford Ranger.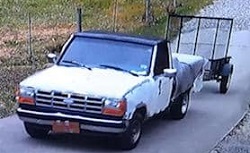 The truck was wrapped in plastic with intent to conceal the color of the truck, it also had what appeared to be cardboard box cut outs placed on the front license plate along with the back window to conceal a customized license plate and window decals.
If anyone has any information on who the truck belongs to or possibly seen this truck, please contact the Clay County Sheriff's Office at (606) 598-3471 or Clay County Dispatch at (606) 598-8411 ext. 1.
Photos are of the disguised truck.