Laurel County, Ky. Sheriff John Root is reporting that: Major Chuck Johnson arrested Gerald W. May age 33 of W. 7th St., London on Friday afternoon March 29, 2019 at approximately 1:30 PM.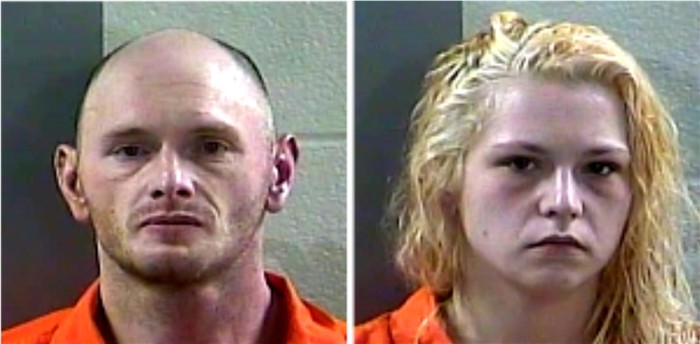 The arrest occurred off KY 1376 approximately 4 miles north of London after Major Johnson attempted a traffic stop on a gray colored Chevrolet Malibu. The vehicle stopped in a driveway nearby and the driver exited the vehicle fleeing on foot failing to stop.
Other deputies were notified and responded to the scene searching for the individual who was found by Deputy Taylor McDaniel approximately ½ mile from where he had abandoned his vehicle and he also fled from Deputy McDaniel into a wooded area off Highway 490 where he struggled with Deputy McDaniel before being taken into custody. This individual gave Deputy McDaniel a false name and false date of birth. This individual also destroyed a deputy's uniform during the arrest.
This individual was charged with operating a motor vehicle under the influence – first offense; fleeing or evading police – second-degree – on foot; disorderly conduct – second-degree; criminal mischief – third-degree; giving officer false identifying information; failure to wear seatbelts; failure of owner to maintain required insurance first offense; resisting arrest; failure to register transfer of motor vehicle; failure to signal; license to be in possession.
In addition, this subject was charged on a Kentucky parole board parole violation warrant charging absconding parole supervision; failure to report to parole officer as directed; failure to make restitution as directed regarding a conviction in Laurel Circuit Court on charges of receiving stolen property $500 or more and under $10,000; burglary third-degree; flagrant nonsupport.
In addition, this subject was charged on a Laurel Circuit Court indictment warrant of arrest charging sexual abuse – first-degree; unlawful transaction with a minor – third-degree; persistent felony offender II.
This individual was also charged on a Laurel District Court bench warrant of arrest charging failure to appear in court regarding flagrant nonsupport – arrearage owed $7822.40.
Also arrested was Bridgette A. Philpot age 24 of Brock Minton Rd., London this individual was a passenger in the vehicle and admitted to deputies that she had taken Suboxone. In addition, this subject was located in possession of suspected methamphetamine which she admitted attempting to hide inside a pop can during the attempted a traffic stop.
This individual was determined to be under the influence and was charged with public intoxication – controlled substances; possession of a controlled substance – first-degree – first offense – methamphetamine; tampering with physical evidence.
These two individuals were lodged in the Laurel County Detention Center.
Photos of accused attached are courtesy of the Laurel County Detention Center.
Deputies assisting with the arrest included Lieut. Robbie Grimes, Sgt. Greg Poynter, Deputy Taylor McDaniel, Deputy Hunter Disney, Sgt. Brett Reeves, Detective Sgt. Chris Edwards, Detective Bryon Lawson, Deputy Brad Mink, and Detective Daniel Grigsby.