Laurel County, Ky. - Sheriff John Root is reporting that: Deputy Rick Cloyd is investigating a single vehicle non-injury traffic crash which occurred on Friday afternoon April 5, 2019 at approximately 2:49 PM.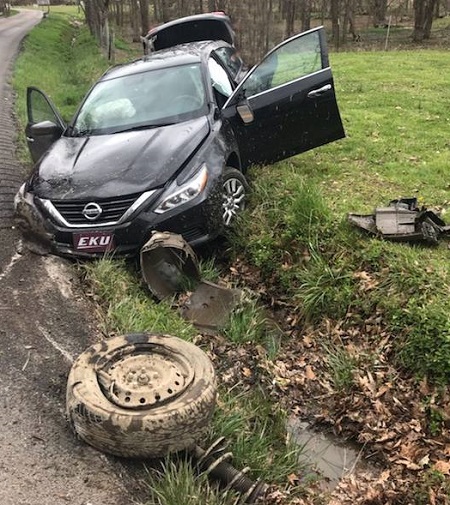 The crash occurred on River Road, approximately 3 miles South of London after a 2016 black colored Nissan Altima was reportedly traveling eastbound on River Road when the driver stated that a squirrel ran out in front of her causing her to swerve, dropping off into the ditch line.
The investigating deputy reports that apparently the vehicle traveled down the ditch line striking a concrete culvert, over turning before coming back to rest on its wheels facing in the opposite direction in the ditchline.
Both the driver and passenger refused treatment from EMS, but stated they were going to the hospital to be checked out afterward.
The driver was identified as Rachel Carmack age 18 of Berea with a passenger Robin Carmack age 18 of Berea.
Photos of crash site provided by Deputy Rick Cloyd.