Manchester, Ky. (April 7, 2019) - The City Of Manchester Fire Department is reporting that: At approximately 05:25AM on April 7, 2019 Manchester & Lockard's Creek Fire Units were dispatched by Clay County 911 to a possible fire at Manchester McDonald's on Muddy Gap Road.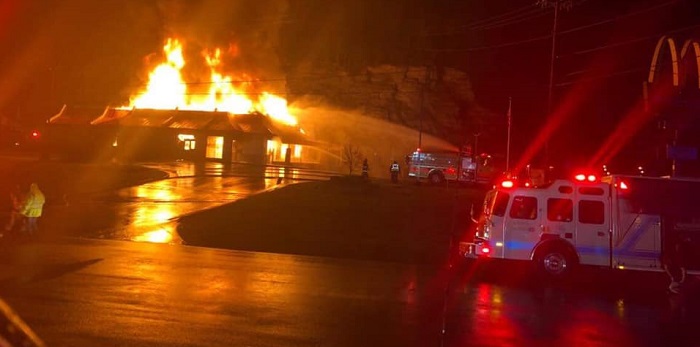 Upon arrival of Clay County Sheriff's Deputy Brandon Edwards & Manchester City Police Officer Antonio Dodson they observed heavy smoke coming from within the restaurant with heavy fire conditions around the grease.
Deputy Brandon Edwards & Officer Antonio Dodson made entry into the structure with a key and attempted to extinguish the grease fire with extinguishers but due to the extinguishment system installed in the the restaurant failing to activate, the Officer's efforts to extinguish the fire was unsuccessful.
Upon arrival of the First Engine, entry crews made entry into the restaurant and attempted a second extinguishment effort using Foam.
Units initially thought that the fire was completely extinguished but they not know that the fire was already in a double layered ceiling above their heads.
Units attempted to locate the fire and extinguish it but the ceiling began falling in and entry teams had to pull out of the building due to it being too dangerous to be inside the structure.
One outside units set up a defensive attack on the structure in an attempt to knock the fire but it while attempting to gain a water source from a hydrant nearby the main water line broke shutting the operation down completely for a few minutes causing the fire to only progress.
Units were assisted by several fire departments and law enforcement personnel.
The owner of the store stated that they did expect to be building a new building and would hopefully have one running again within 3-8 months.
Units stood by and assured that the scene was secure and then cleared the scene with no further incident.
Assisting at the scene:
Horse Creek Fire Department
Hacker Fire Department
Fogertown Fire Department
Laurel County Fire Department
City Of London Fire Department
Bush Fire Department
Manchester Police Department
Clay County Sheriff's Office
Kentucky Utilities
Kentucky State Fire Marshall's Office
Manchester City Water