Clay County Sheriff Patrick Robinson is reporting that on April 6, 2019 at approximately 5:30 PM the Clay County Sheriff Office was dispatched to a residence on Sallie Lyttle Road of a "Burglary in Progress".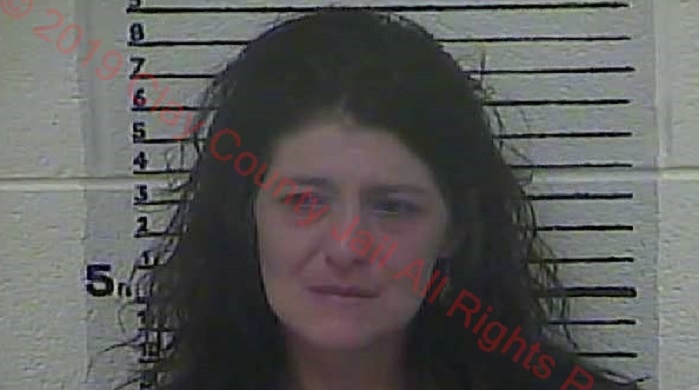 Arrested was Rebecca Vaughn age 38 of Manchester, Ky.
Upon arrival Clay County Sheriff Deputies Cody Blackwell, Jeremy Gabbard and Kentucky State Police Trooper Logan Gay observed the front door of the residence open.
Deputy Blackwell and Trooper Gay went inside the residence to see if the perpetrator(s) was inside while Deputy Gabbard went to the back of the residence in case they attempted to flee.
Manchester City Police Detective Gary Jordan and Manchester City Police Officer Chris Curry arrived on scene and flew the Manchester City Police Drone.
As Deputies and other Officers was searching the premises for any other clues they could hear a four-wheeler attempt to start up, Trooper Logan Gay went to the area and came in contact with Rebecca Vaughn, 38 of Sallie Lyttle Road.
He brought her back to the residence were she was questioned about the burglary when she then became belligerent.
Through investigation the subject was deemed to be under the influence of intoxicants, also when her name was ran through Clay County 911 it showed she had an outstanding warrant for her arrest through Clay County District for Receiving Stolen Property.
Upon search of the property Deputies located 3 duffle bags filled with items belonging to the house and two coffee cans with assorted coins in them.
The homeowner said he also had a Henry .22 Lever Action Rifle and a substantial amount of cash taken from inside the residence.
Suspects are believed to be two unidentified males.
The investigation is still open.
Also, assisting at the scene was Clay County Sheriff Deputy Brandon Edward's, Manchester City Police Officer Taye Napier and Department of Fish and Wildlife Officer Chris Meadows.
Rebecca Vaughn was charged with:
Serving Warrant for Court
Public Intoxication of Controlled Substance (Excludes Alcohol)
Disorderly Conduct 2nd Degree
The photo attached is courtesy of the Clay County Detention Center.