Clay County, Ky. - Sheriff Patrick Robinson is reporting that: On April 11, 2019 at approximately 10:00 PM Clay County Sheriff Deputy Tommy Houston along with Deputy Brandon Edwards and CSO Wes Brumley arrested an individual on South Highway 11.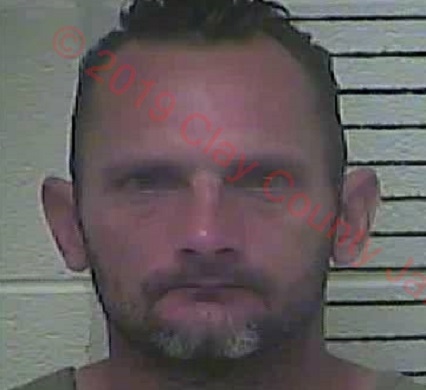 Arrested was:
Brian Gibson, 38 of Knox Road.
The arrest occurred on South Highway 11 when Deputy Houston received a complaint of a strange vehicle that had pulled into someone's driveway and was shooting a firearm.
Upon making contact with the above mentioned subject, Deputy Houston determined the subject was under the influence due to the strong odor of alcohol emitting from the subject.
Once the subject was detained, Deputy Houston located a 12 gauge shotgun that had been altered along with a fresh spent cartridge that hadn't been ejected inside the vehicle.
Following up the investigation, witnesses stated he was the one shooting the firearm.
Brian Gibson was charged with:
Wanton Endangerment, 1st Degree
Endangering the welfare of a minor
Alcohol Intoxication in a Public Place 1st Offense
The photo attached is courtesy of the Clay County Detention Center.