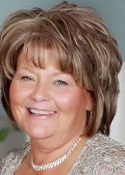 Mrs. Rebecca Ann Sumner, age 59 departed this life on Wednesday, May 1, 2019 at the University of Kentucky Medical Center in Lexington, Kentucky. She was born on Tuesday, November 24, 1959 in London, Kentucky to the union of Leonard and Dora Bowling Hacker.
She is a school teacher for the Clay County Board of Education and a member of the Liberty Worship Center and Outreach.
She leaves to mourn her passing her husband: Danny "Boone" Sumner, her daughter: Sarah Ealy and her husband Kevin, her son: Tyler Sumner and his fiancé Blair and her grandchildren: Easton and Ellie Cait Ealy. Also surviving is her mother: Dora Hacker, her mother-in-law: Dora Sumner and these brothers and sisters: Michael Hacker and his wife Faye, Sandra Lawson and her husband Albert, Connie Lester and Deborah Dobson and her husband Jimmy, her sister-in-law: Kathy Hacker and several nieces and nephews.
She is preceded in death by her father: Leonard Hacker, her brother: Jerry Hacker, her father-in-law: Lester Sumner, her nephew: Michael Lane Hacker and her niece: Jennifer Hacker Smith.
A celebration of the life of Mrs. Rebecca Ann Sumner will be conducted on Sunday, May 5, 2019 at 2:00 PM at the Rominger Funeral Home Chapel. Rev. Scotty Sumner and Rev. Rusty Roberts will be presiding. She will be laid to rest in the Manchester Memorial Gardens.
The family will receive friends and loved ones on Saturday evening after 6:00 PM at the Rominger Funeral Home Chapel.
Arrangements are under the direction of the Rominger Funeral Home.