(FRANKFORT, KY) – The Kentucky State Police is now accepting applications for its 92nd cadet class, which is scheduled to begin on August 3, 2014.
(Rineyville, Ky.) — On March 5, 2014, at approximately 1:58 a.m., the Kentucky State Police Electronic Crime Branch, assisted by units from KSP Post 4 in Elizabethtown, arrested a man for charges related to possession and distribution of matter portraying a sex performance by a minor.
As a member of Kentucky State Police Cadet Class #1 in 1948, Chester Potter was a ground floor witness to the birth and growth of an organization that would transform law enforcement in Kentucky. Recently, the 83-year-old Pikeville resident, who retired in 1975 as a lieutenant after 27 years on the force, recalled those early "trailblazing" days.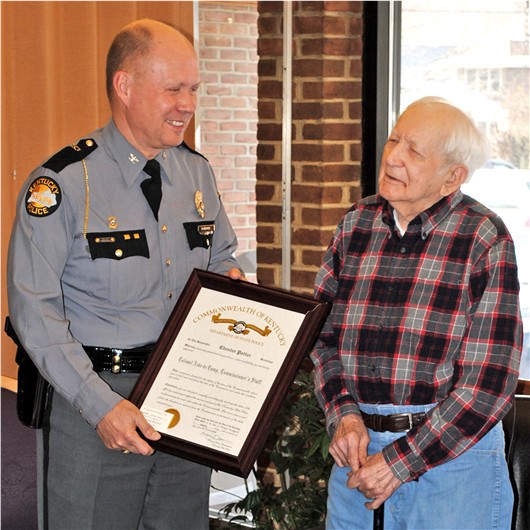 Kentucky State Police Commissioner Rodney Brewer presented 83-year-old, Pikeville, Ky. resident Chester Potter with a Colonel, Aide de Camp certificate on January 30, 2014. Potter, who retired from KSP in 1975 as a lieutenant after 27 years on the force, is the last surviving member of the first Kentucky State Police cadet class in 1948. (Photo: Sherry Bray, KSP Public Affairs)