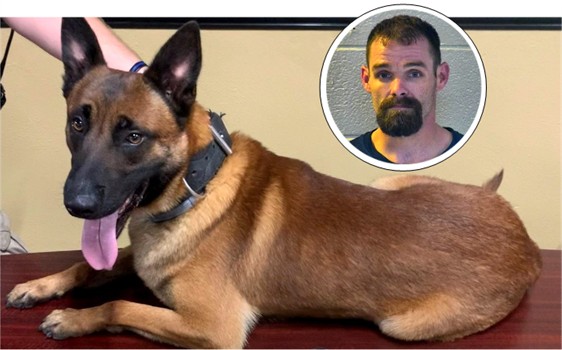 SOMERSET, KY - Pulaski County Sheriff Greg Speck is reporting that on Wednesday, May 11, 2022 at 12:45 AM, Deputy Tan Hudson and Trooper Adam Childress stopped a Honda motorcycle on U.S. 27 in Somerset, Kentucky due to the license plate being expired.
Following the traffic stop, Steven Earl Glover, age 34, of West Highway 70, Eubank, Kentucky was arrested for drug charges by Deputy Hudson and Trooper Childress.
During the traffic stop, Deputy Hudson contacted Sergeant Branson Patterson who came to the scene with K-9 Rocky.

During the investigation with the use of the K-9, officers located approximately 6.5 grams of suspected Methamphetamine and three and a half of suspected Suboxone on the motorcycle.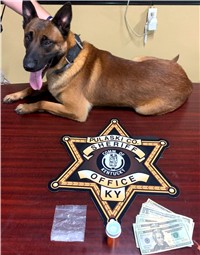 Glover was then arrested by Deputy Hudson.
Deputy Hudson located $327 cash on Glover.
Steven Glover was charged with the following:
• Trafficking in a Controlled Substance, 1st Degree, 1st Offense – (greater than 2 grams of Methamphetamine)
• Possession of a Controlled Substance, 2nd Degree – Drug Unspecified
Steven Glover was transported to the Pulaski County Detention Center, where he remains lodged as of this press release.
Inset photo of the accused courtesy of the Pulaski County Detention Center.
Photo of K-9 "Rocky" and seized contraband from the Pulaski County Sheriff's Office.
This investigation continues by Deputy Tan Hudson.
Sheriff Greg Speck asked that if you have any information about drug activity or any crime, contact our office at 606-678-5145. You can remain anonymous.
If you go to the Pulaski County Sheriff's Office website at http://www.pulaskisheriff.com/tip.php, it gives you three options to submit anonymous tips.
Contact: Major Jeff Hancock
606-678-5145