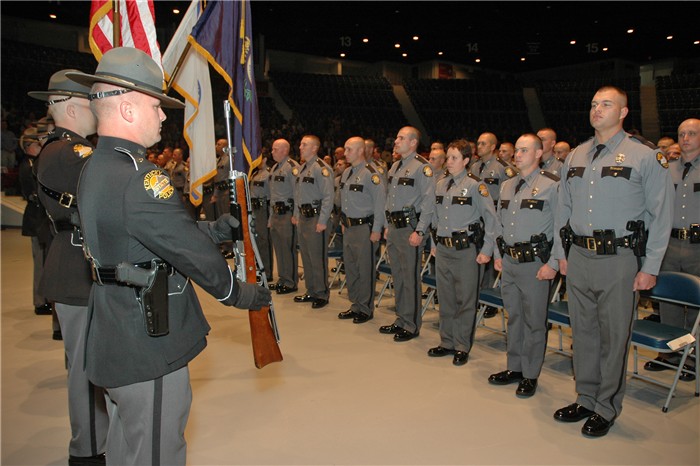 FRANKFORT, Ky. -

On Friday Oct. 28, 2016 the Kentucky State Police Academy presented diplomas to 39 new troopers at ceremonies held in Frankfort. Their addition to the force brings the agency's strength to a total of 911 troopers serving the citizens of the Commonwealth.
"I am pleased to welcome these 39 new troopers," said KSP Commissioner Rick Sanders. "It's been a long, hard road and they have paid their dues. They have earned that patch and that badge."
"Twenty-first century policing is a tough job," he added. "These men and women have prepared to go out and be the best of the best as guardians of their communities."
The new troopers are part of the agency's 94th cadet class. They reported for duty on May 22, 2016 in a class that consisted of 66 cadets. Twenty-seven resigned during the rigorous 23-week training cycle that followed. Six women started the program and four completed the training.
The training included more than 1,000 hours of classroom and field study in subjects such as constitutional law, juvenile and traffic law, use of force, weapons training, defensive tactics, first aid, high speed vehicle pursuit, criminal investigation, computer literacy, hostage negotiations, evidence collection, radio procedures, search and seizure, crash investigation, drug identification, traffic control, crowd control, armed robbery response, land navigation, electronic crimes, sex crimes, hate crimes, domestic violence, bomb threats and hazardous materials.
Several members of the class earned special recognitions including valedictorian Sarah Burgess, of Lexington, Ky., and salutatorian Joseph Kenny, of New Castle, Ky.
William Pope, of Harlan, Ky., received the Ernie Bivens Award, an honor presented to the cadet who, in the opinion of the KSP Academy staff supported by input from the cadets themselves, shows distinction as a class leader, strives for academic excellence and has excelled in all phases of the academy's physical and vocational training.
Nicholas Brumback, of McKee, Ky., received the Commissioner's Commitment to Excellence Award, which is presented to cadets who demonstrate leadership, the desire to get the job done and the determination to be the best every day.
Jeremey Hamilton, of Danville, Ky., received the Overall Fitness Award.
Three of the new troopers are from London. Lexington, Harlan and Stanford are each represented by two new troopers.
The following is a list of the new troopers, their duty assignments and their hometowns or residences:
Nathaniel Day, Taylor, Mich.
John Eilert, Fort Campbell
Jacob Stephens, Brunswick, Ohio
Courtney Milam, Lawrenceburg
Michael Waggener, Columbia
Vincent Hazelwood, Lexington
Ethan Whitlock, Elizabethtown
Joshua Housley, Finchville
Gavin Sullivan, Shelbyville
Michael Reichenbach, Stanford
Nicholas Brumback,
McKee
Wendell Hunter, Scottsburg
Harley Catron, Mt. Sterling
Justis Hensley, Salyersville
Justin Wagner, Wallingford
Joseph Coleman, Fedscreek
Joseph Buckman, Uniontown
Jeremey Hamilton, Danville
Each new trooper will be supervised by a training officer for six to eight weeks after reporting to their post assignments.