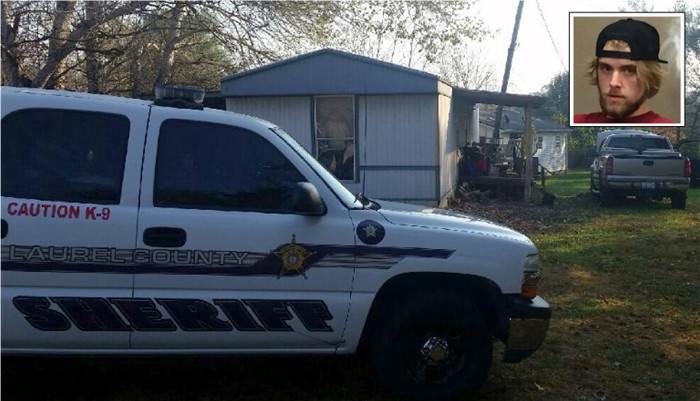 Laurel County, KY - Sheriff John Root is reporting that: Sgt. Brett Reeves arrested Alexander Finley age 18 of East 4th St., London on Wednesday morning November 2, 2016 at approximately 8:45 AM.
The arrest occurred off Mullins Road, approximately 9 miles south of London after deputies were dispatched to attempt to locate a reported stolen vehicle that was being tracked by GPS. The vehicle -a 2001 Chevrolet Silverado had been stolen from a driveway on Ford Street in Corbin.
Corbin City Police notified the Laurel County Sheriff's office that a reported stolen vehicle had apparently entered southern Laurel County and was being tracked by GPS. Sgt. Reeves was able to locate the vehicle off Mullins Road behind a residence there.
Sgt. Reeves attempted to take two suspects into custody that were apparently occupants of the vehicle. Sgt. Reeves arrested a male subject there following a short scuffle with the subject.
While Sgt. Reeves was arresting the driver, a female suspect fled the scene on foot – this subject is still being sought by the Sheriff's office.
Alexander Finley was charged with receiving stolen property under $10,000; resisting arrest; and tampering with physical evidence. He was lodged in the Laurel County Detention Center.
Deputies assisting on the investigation included: Lieut. Greg Poynter, Detective Kyle Gray, Deputy Daniel Grigsby and his K-9 -"Edge", Deputy Keith Dinsmore, Deputy Brad Mink, Sgt. Jack Caudill, and Deputy Gilbert Acciardo.
Also assisting on the investigation was Corbin City Police Lieut. Rick Baker and Corbin City Police Officer Steve Meadors.
Investigation is continuing.
Attached is a picture of the accused and also a picture of the crime scene.