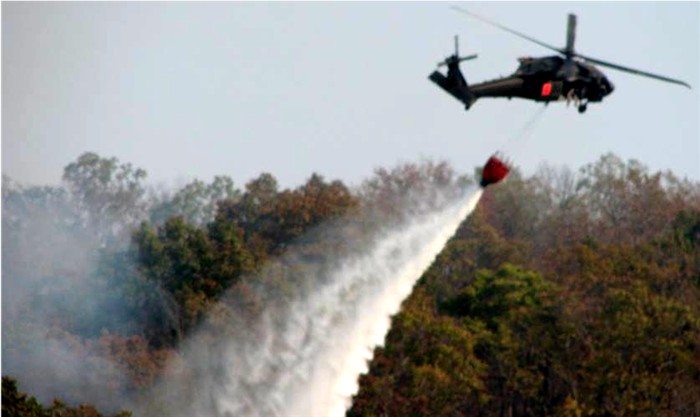 Black Hawk Helicopter Fighting Forest Fire Monday in Clay County (Photo - Jack Roberts)
FRANKFORT, Ky: (Nov. 10, 2016) – The State Emergency Operations Center (SEOC) remains activated, supporting wildfire fighting efforts across the Commonwealth and will continue over the weekend.
On Oct. 27, the Kentucky Division of Forestry (KDF) began assisting local fire departments battling the wildfires. KDF continues to lead those efforts against 20 active wild fires, with 385 deployed personnel. To date, there have been 204 fires, with approximately 32,768 acres burned. Sixty-six counties have issued burn bans which can be found on the KDF Facebook page https://www.facebook.com/Kentucky-Division-of-Forestry-261039753930985/?fref=ts.
The Kentucky Fire Commission reports a third relief crew of 50 firefighters reported this morning into the impacted areas. They will be relieved by another crew of 50 on Sunday.
The US Forestry Service is also battling fires burning in the Daniel Boone National Forest. There are currently 10 active fires, with approximately 1,200 acres on fire on federal land.
The Kentucky National Guard (KYNG) will continue to provide eight helicopters for air assets in southeastern Kentucky today. As of this morning, KYNG has dropped 1,068 buckets of water containing approximately 640,000 gallons of water. The Civil Air Patrol continues to provide aerial support for missions.
The American Red Cross continues to provide meals for the firefighters and has six shelters on standby if needed.
For additional information and resources, please go to www.kyem.ky.gov , where you can follow KYEM on Twitter and like us on Facebook.
When posting to social media regarding the wildfires, please use #KyWildfires.