FRANKFORT, Ky. (Nov. 18, 2016) - First Lady Glenna Bevin, joined by nurse practitioners from Frontier Nursing University, today presented a proclamation signed by Gov. Matt Bevin declaring November 13-19 to be Nurse Practitioner Week in Kentucky, saluting the hard-working nurses in the Commonwealth's health industry.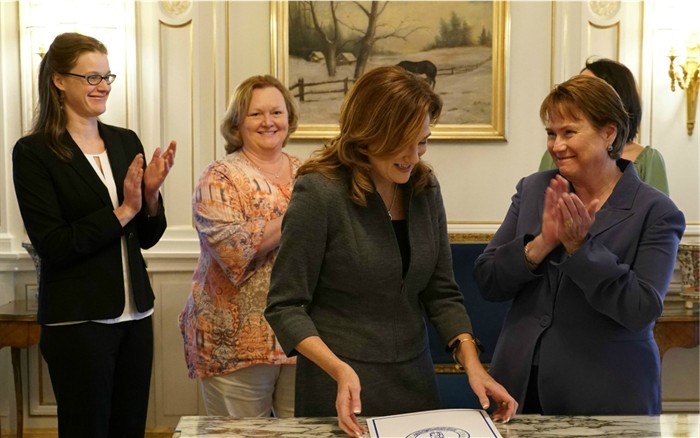 First Lady Glenna Bevin presents proclamation to Dr. Julie Marfell, Dean of Nursing at Frontier Nursing University, declaring November 13-19 to be Nurse Practitioner Week in Kentucky.

"This week, and every week, we are thankful for those men and women who dedicate their careers to helping and serving others," said Mrs. Bevin. "As a former ER nurse, I know how demanding the healthcare field can be, but I also know how rewarding it is. Kentucky is blessed to have so many highly trained, qualified nurse practitioners. They are the heart of healthcare, and we proudly recognize and honor their service."
Nurse Practitioners (NPs) are advanced practice registered nurses (APRNs) who have advanced their education and training beyond their initial registered nurse training. Their essential duties include diagnosing, treating, and prescribing medications and other treatments to patients. Through modern laws and policies, nurse practitioners are better utilized, creating a more accessible, efficient, cost-efficient and higher-quality health care system.
Events held in communities around the country will familiarize citizens with the role of NPs as providers of high-quality, cost-effective, personalized health care. NP practice offers a unique combination of nursing and health care service to patients. Focusing not only on diagnosing and managing acute and chronic illnesses, NPs integrate health promotion, disease prevention, counseling and patient education to help patients understand their complete health picture.
In a population that is aging, with baby boomers becoming seniors in growing numbers over the next ten years, having choices about health care providers will become even more important. National NP Week brings visibility to the role of the NP, helping consumers make wise choices when selecting their health care provider. Of the 222,000 licensed nurse practitioners in the United States, 7,015 practice in Kentucky.
The American Association of Nurse Practitioners (AANP) is the largest professional membership organization for nurse practitioners (NPs) of all specialties. It represents the interests of more than 222,000 NPs, including approximately 70,000 individual members and 200 organizations. AANP provides legislative leadership at the local, state and national levels, advancing health policy; promoting excellence in practice, education and research; and establishing standards that best serve NP patients and other health care consumers. As The Voice of the Nurse Practitioner®, AANP represents the interests of NPs as providers of high-quality, cost-effective, comprehensive, patient-centered health care. For more information, visit aanp.org. To locate an NP in your community, go to npfinder.com.