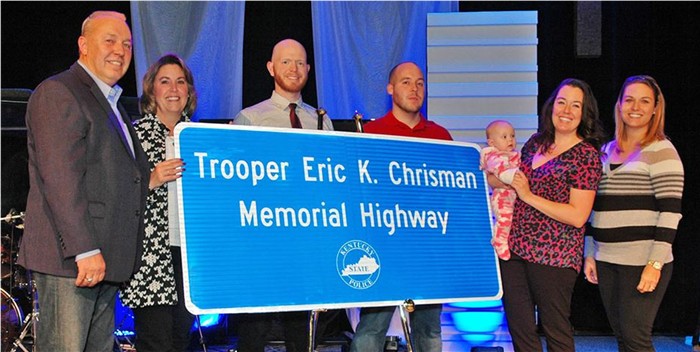 LAWRENCEBURG, Ky. — At a ceremony Monday, Kentucky Highway 326 (Ninevah Road) in Anderson County was renamed in honor of Kentucky State Police Trooper Eric Keith Chrisman, who was killed in the line of duty.

Chrisman (right) tragically lost his life in a car crash on June 23, 2015 while responding to a reckless driving complaint in Livingston County.
KSP Commissioner Rick Sanders spoke at the ceremony sharing how important it is to never forget those who have fallen.
"It is bittersweet to honor Eric in this way," said Sanders. "While KY 326 will serve as a timeless reminder of this trooper's service to the Commonwealth, it will be difficult to drive by this sign and not grieve the young man who was adored by this community."
Chrisman's uncle, KSP Lieutenant Doug Carter, along with other family members, unveiled the official highway sign.
"It is fitting that we dedicate Ninevah Road to Eric's memory," said Carter. "To Eric, this road is more than a winding, country road. It is the road that brought him home each night to his parents, Randy and Dawn."
In a heartfelt message, Carter shared how Ninevah Road carried Chrisman beyond Lawrenceburg, leading to his future in service as a trooper.
"This is the road he traveled to begin his final journey on this earth," added Carter. "This road will always bear his name, as a reminder of sacrifice, and a challenge for each of us to be the type of person Eric was – service above self."
The ceremony was held at Ninevah Christian Church in Lawrenceburg.
"I had the privilege of baptizing Eric in this very church," said Carter. "It is where he began his relationship with Jesus Christ."
Chrisman's parents have continued to keep their son's legacy alive through the establishment of the Eric K. Chrisman Scholarship Fund, which provides students from the Christian Academy of Lawrenceburg with scholarships to advance their education.
A graduate of the Christian Academy of Lawrenceburg, Chrisman received the Presidential Scholarship to attend Western Kentucky University, where he majored in sociology and graduated magna cum laude in 2013. He entered the KSP Training academy in 2014, graduating in Cadet Class 92 in January of 2015.
Chrisman is buried at Sand Spring Baptist Cemetery in Anderson County.