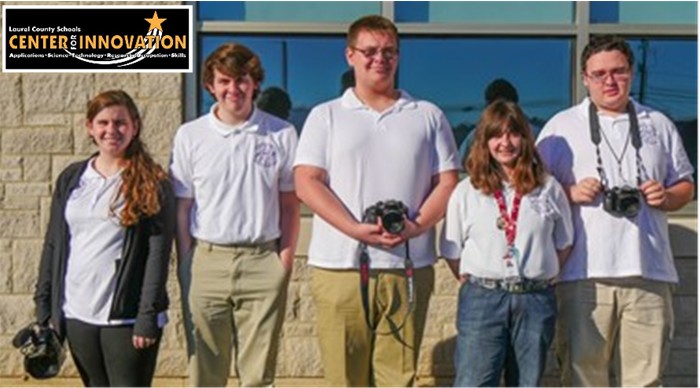 Technology (MAT) students Gracie Hammons, Josh Roberts, Will Gilpin, Shyann Gray, and Zeke Carnes
preparing to produce video content and photographic images for the Mannequin Challenge project.
London, KY - Students in the Media Arts Technology (MAT) program at the Center for Innovation (CFI) recently produced a Mannequin Challenge video that has become all the rave on social media outlets.
The MAT students collected video content of the Allied Health Science (AHS) students simulating patient care in the hospital lab at the CFI.
The students directed the actors, filmed the content, edited the video, produced and distributed the video under the supervision of executive director, Mr. Shane Smith, Media Instructor at the CFI. "Our students enjoy the creative project-based learning environment," remarked Mrs. Jessica Davis, instructor of English. .
"This was a very interesting media lab experience for our students to actually create and produce live content video utilizing our state of the art equipment and technology," said Dr. James M. Davis, CFI Principal.