London, Ky. – On Monday, December 05, 2016 at approximately 10:00 AM, Kentucky State Police Post 11, London received a report of a vehicle submerged and upside down in a creek located off South HWY 421 in the Big Creek community of Clay County.
Upon arrival, Trooper Don Trosper learned Chasity A. Murphy, 34, of Manchester was located inside the vehicle, deceased. Trooper Trosper determined that Murphy was traveling northbound on S HWY 421, operating a 2002 Chevrolet Cavalier, when she lost control of her vehicle, dropped off the roadway, and traveled an estimated 100 feet over an embankment before overturning in the creek.
While on the scene, Trooper Trosper was notified that a passing motorist traveling on the Hal Rogers Parkway had stopped to look at the investigation and located 9- year- old Mylee S. Murphy over an embankment. It was determined that she was the daughter of the deceased and passenger in the vehicle at the time of the collision. She survived the collision and escaped out of the vehicle, swam across the creek, and climbed up the embankment to try to get help. She later fell asleep until located by the motorist.
Mylee Murphy was transported to the Manchester Memorial Hospital and later flown to the University of Kentucky Medical Center where she is being treated for her injuries.
Chasity Murphy was pronounced dead at the scene by the Clay County Coroner's Office.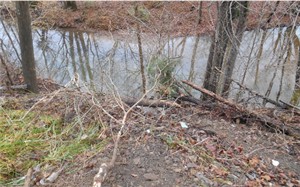 Trooper Trosper is continuing the investigation. He was assisted by Troopers from Post 11, Officers with the US Forest Service, several local Fire Departments, Clay County EMS and Clay County Coroner Danny Finley.
Pictured left is he scene of the accident that claimed the life of 34 year old Christy Murphy. The embankment to the river was a nearly vertical seventy five feet drop.
Photo: Clay County Coroner