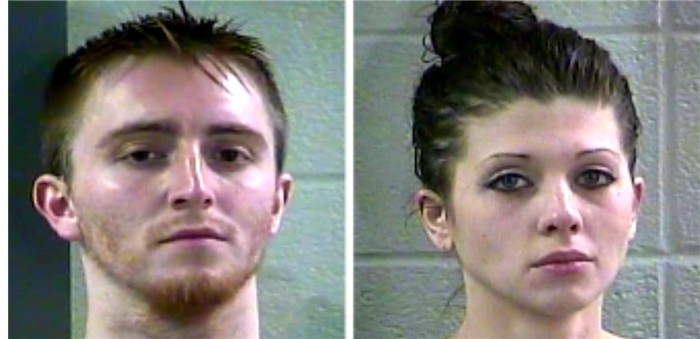 Laurel County, KY - Sheriff John Root is reporting that: Deputy Gary Mehler along with Detective Kevin Berry, Detective Kyle Gray, and Detective James Sizemore arrested two individuals on Sunday evening December 11, 2016 at approximately 6 PM.
One arrest occurred off Rooks branch Road approximately 10 miles southwest of London after deputies were dispatched to conduct a welfare check on a five-year-old child that had been dropped off to the child's mother by the child's father after a weekend visitation. The child's father stated that he had smelled a strong smell of marijuana when dropping the child off.
When deputies arrived at the scene, they noted that the child was in the custody of the mother's boyfriend. During the investigation, deputies located marijuana in a large glass jar within 5 feet of the five-year-old. Deputies also located a fully loaded 9mm pistol under a pillow within 3 feet of the child.
In addition, deputies found an indoor marijuana grow containing 16 plants. Deputies arrested Daniel Ball age 23 Rooks Branch Road, Keavy charging him with possession of marijuana; possession of drug paraphernalia; endangering the welfare of a minor; criminal abuse – first-degree – child 12 or under; possession of a handgun by a convicted felon; cultivating marijuana plants or more – first offense: and trafficking in marijuana less than 8 ounces – first offense.
As the investigation continued deputies made contact with the 5 year old's mother who was at work in London and learned that she allegedly had went to church, came home and smoked marijuana, and then left her five-year-old with her boyfriend while she went to work. This subject was determined to be under the influence.
Carrie Gregory age 24 of Rooks Branch Road, Keavy was arrested and charged with public intoxication – controlled substances: wanton endangerment – second degree; and criminal abuse third-degree – child 12 or under .
The two individuals were lodged in the Laurel County Detention Center.
Photos attached are courtesy of the Laurel County Detention Center