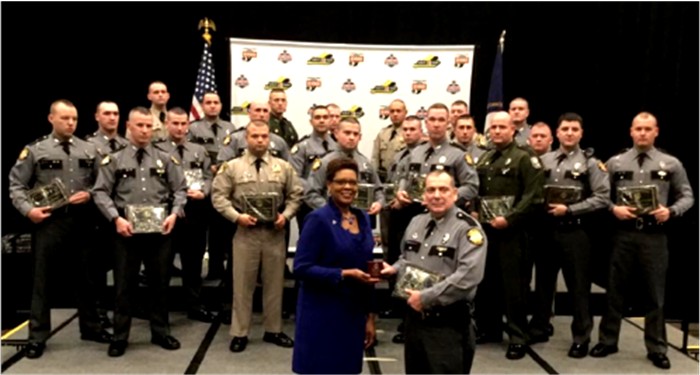 London, KY - The Kentucky Office of Highway Safety (KOHS) honored 205 law enforcement officers from 175 agencies across the Commonwealth for their efforts to target impaired drivers on Tuesday, December 13, 2016.
The 2016 Governor's Impaired Driving Enforcement Awards ceremony was held at the Hyatt Regency in downtown Lexington. Awards were presented to officers with the most impaired-driving arrests in each agency.
"We are honoring those who put their lives on the line each day to save the lives of others," said KOHS Executive Director Dr. Noelle Hunter. "These officers, their departments and agencies render a great service for all Kentuckians, and on behalf of Governor Matt Bevin, we say thank you."
Kentucky State Police Commissioner Richard Sanders commended the aggressive enforcement and awareness efforts.
"Impaired driving is one of the deadliest crimes in this nation and it impacts thousands of innocent lives every day," said Sanders. "Today is more than just receiving an award. It is about saving lives and that is what each of you do every time you arrest an impaired driver."
Last year, more than 5,900 crashes involving alcohol and/or drugs in Kentucky resulted in more than 3,100 injuries and 162 fatalities.
Trooper Steve Walker was honored for his efforts in impaired-driving enforcement for Kentucky State Police Post 11, London.
Pictured is Trooper Walker receiving his award.