Cutshin, KY - Leslie County Sheriff's Office is reporting that: On Thursday, June 6th Deputy Jeremy Vega and Special Deputy Sam Roberts conducted extra patrol about 11 miles up HWY 699 (Cutshin) after complaints of high traffic in the area.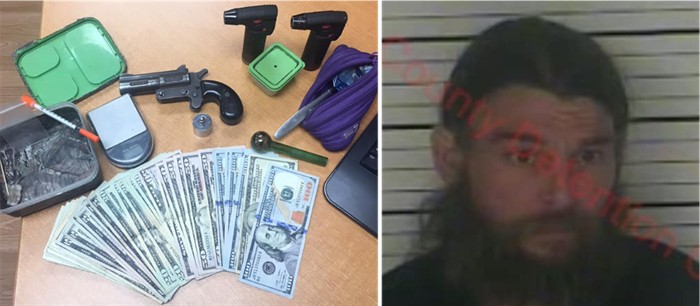 Johnny Lewis 46 of Wooton was stopped for a traffic check after he turned on his turn signal and cancelled it and then crossed the yellow line.
The subject agreed to a search and in his back pocket was found a 22 caliber over under gun and a 410 gauge pistol.
Lewis also had in his possession digital scales, syringes, spoons with white residue, glass pipe, other paraphernalia, and $1,398.00 in cash.
The subject stated these items did belong to him.
Johnny Lewis was charged with:
Possession of Controlled Substance 1st Degree, Methamphetamine
Drug Paraphernalia Buy-Possess