Laurel County, KY - Sheriff John Root is reporting that: the Laurel County Sheriff's office and the Knox County Sheriff's office conducted a joint investigation into a drug complaint received in Knox County and following an investigation located approximately 3 pounds of crystal meth and a large sum of US currency found on a property in Laurel County off KY 1223 approximately 9 miles South of London on Sunday night June 9, 2019 at approximately 10:27 PM.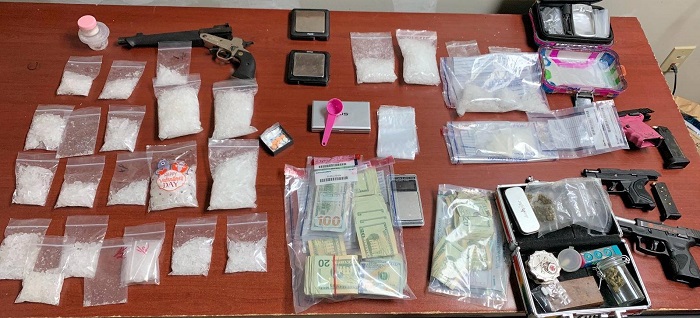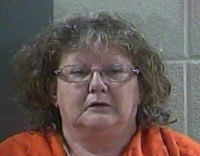 Deputies from Laurel County and Knox County found meth, a large sum of U.S. currency, loaded and unloaded syringes and firearms inside a child's playhouse where four children had easy access to.
Deputies identified and charged a female subject there:
Patsy Hopkins age 63 of North Highway 1223, Corbin (Laurel County) was charged with:
Trafficking in a controlled substance – first-degree – first offense – methamphetamine
Possession of drug paraphernalia
Carrying a concealed weapon
Four counts of wanton endangerment – first-degree
This individual was lodged in the Laurel County Detention center.
Investigating for the Laurel County Sheriff's office was: Detective Bryon Lawson, Deputy Robert Reed,and Deputy Jake Miller with his K-9 "Gotcha".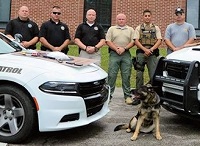 Pictured is left to right for Knox County Sheriff's Office—Deputy Bobby Jones, Deputy Sam Mullins, Knox County Sheriff Mike Smith, and for Laurel Sheriff's Office - Major Chuck Johnson, Deputy Jake Miller, Detective Bryon Lawson, and between cruisers -Laurel Sheriff's K-9 "Gotcha" .
Photo of contraband seized provided by arresting deputies.
Photo of Knox County Sheriff's deputies and Laurel County deputies involved in the investigation and arrest courtesy of the Mountain Advocate newspaper.
Photo of accused is courtesy of the Laurel County Detention Center.
Laurel County Sheriff John Root stated this huge overnight drug arrest demonstrates the great cooperative effort that routinely occurs between counties.