MANCHESTER, KY (June 11, 2019) - Clay County Sheriffs Office is reporting that: The Clay County Sheriff's Office in Manchester, Kentucky is starting their very first K9 Unit. Their new K9 officer is named "Ghost".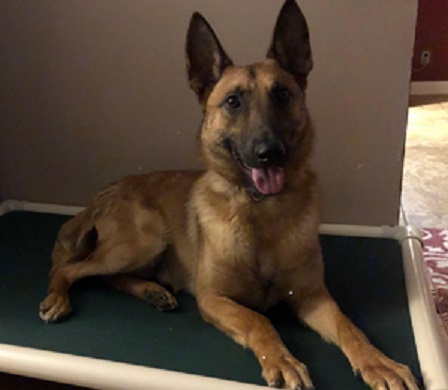 "Ghost" is a 1-year-old Belgian Malinois and his handler is Deputy Sheriff Cody Blackwell.
The Sheriff's office currently has a patrol squad of 6 Deputies not including the Sheriff.
Clay County, KY is a 472 square mile area and radio transmissions aren't always the best & with the Sheriff's office being able to have a K9 will make the "War on Drugs" much stronger and also add a new officer to CCSO.
Most times there is only maybe 1 deputy out at a time, therefore "Ghost" will benefit the Sheriff's department and Clay County residents hugely.
It's a proven fact that any Sheriff's department with a K9 prospers greatly from it.
Clay County is small and a large portion of it relies on government assistance.
The Clay County Sheriff's Department is a fee department which means their only revenue is from collecting property taxes, serving civil process papers and auto inspections.
"Funding is crucial and we do the best we can with the resources we have!" Clay County Sheriff's Office.
####
URGENT: K9 "Ghost" is in need of a Heat Alarm and Insert for the vehicle and Clay County Sheriff Patrick Robinson would like to ask for the public's help in acquiring funds for K9 "Ghost" who will make his appearance around the first of July.
We are trying to raise $4,500.00 & are asking for your help with donations. Please help!
We are extremely grateful for any and all donations that we receive.
Below is an attached Facebook page that you can click and donate specifically to our campaign.
Thank you!
Sheriff Patrick Robinson
DONATE to help K9 Ghost: DONATE NOW