Laurel County, Ky - Sheriff John Root is reporting that: Laurel Sheriff's Deputy Brad Mink along with Laurel County Sheriff John Root, Deputy Jake Miller and his K-9 "Gotcha", and Detective Kyle Gray arrested Dustin L. Patterson age 26 of East Bernstadt on Monday afternoon July 1, 2019 at approximately 1:08 PM.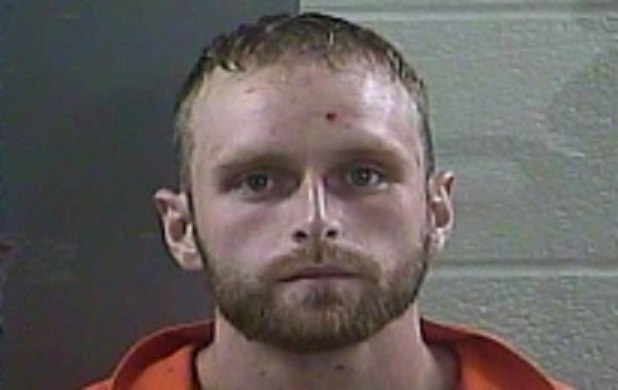 The arrest occurred off Chapel Road, approximately 6 miles north of London after deputies were dispatched to a disturbance complaint there.
Upon arrival at the scene deputies learned that allegedly this subject had forced his way into a residence there (not his own) stating that he was going to hide because people were trying to kill him.
Deputies learned that allegedly this individual became involved an argument elsewhere with his girlfriend that resulted an altercation where she was struck with a baseball bat and her three-year-old son was struck in the head with the bat, and that Patterson fled the scene afterward.
Deputies also determined that Dustin Patterson was under the influence.
Dustin Patterson was charged with:
Two counts of wanton endangerment – first-degree
Assault – second-degree; assault – 4th degree
Public intoxication – controlled substances
Disorderly conduct – second-degree
Burglary – second-degree
Fleeing or evading police – first-degree – on foot
Patterson was lodged in the Laurel County Corrections Center.
Photo of accused attached is courtesy of the Laurel County Corrections Center.
The three-year-old child was transported by Ambulance Inc. of Laurel County to St. Joseph Hospital London to be evaluated for injuries.