Clay County, KY - Sheriff Patrick Robinson is reporting that on July 2, 2019 at approximately 6:30 AM Clay County Sheriff Deputy Brandon Edwards and Clay County Chief Deputy Clifton Jones arrested Jimmy Hoskins, 23 of South Highway 421.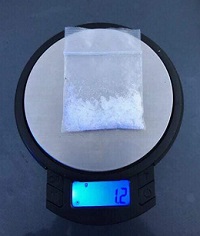 The arrest occurred when Deputy Edwards received a complaint of a suspicious vehicle sitting in a driveway of a residence.
Upon contact with the subject, he showed signs of impairment. In plain sight of Deputy Edwards was a small plastic baggie of suspected methamphetamine.
Through investigation it was determined the subject was under the influence of intoxicants.
• Public Intoxication of Controlled Substance (Excludes Alcohol)
• Possession of Controlled Substance, 1st Degree 1st Offense (Methamphetamine)
Photos attached are courtesy of the Clay County Detention Center and Deputy Edwards.
Jimmy Hoskins, 23 was charged with: