MANCHESTER, KY - The Clay County Sheriffs Office is reporting that: On July 2, 2019 at approximately 3:30 PM Clay County Sheriff Patrick Robinson, Clay County Sheriff Deputy Jeremy Gabbard and Clay County Sheriff Deputy Brandon Edwards arrested Matthew Gilbert, 47 of Highway 638.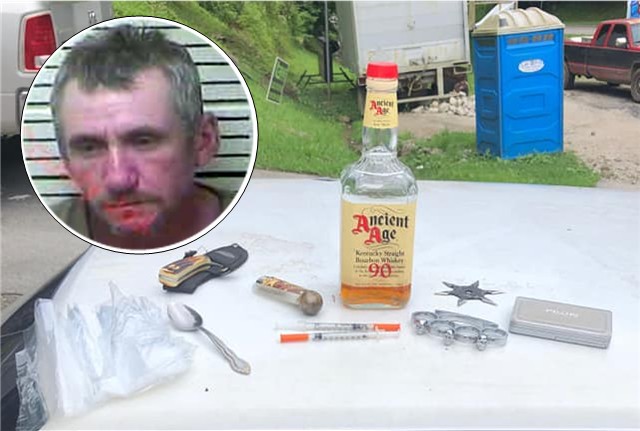 The arrest occurred when Deputy Gabbard received a complaint of a male subject passed out behind the wheel of an automobile at Colson's Market.
Upon arrival the above mentioned subject was showing signs of severe Intoxication. In plain sight was a open liquor bottle and numerous syringes.
When the driver was told to step out of the vehicle he had a Shurikin Star concealed along with a pair of brass knuckles.
Upon running the information of the subject it was confirmed he had an active warrant out of Laurel County.
Matthew Gilbert was charged with:
Public Intoxication of Controlled Substance (Excludes Alcohol)
Serving Bench Warrant for Court• Carrying a Concealed Deadly Weapon
Possession of an Alcoholic Beverage in a Motor Vehicle
Drug Paraphernalia Buy/Possess
The photos attached are courtesy of the Clay County Detention Center and Deputy Gabbard.