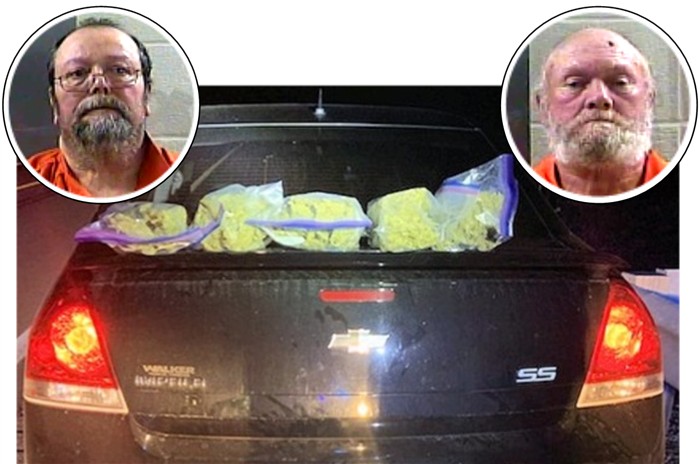 LONDON, KY. (November 24, 2019) - Laurel County Sheriff John Root is reporting that: Laurel Sheriff's Deputy Landry Collett along with Deputy Jake Miller and his K-9 "Gotcha" arrested two individuals on Thursday night November 21, 2019 at approximately 7:05 PM.
The arrests occurred on Hal Rogers Parkway approximately 1 mile west of London after deputies conducted a traffic stop on a black colored Chevrolet Impala that had been clocked running 11 miles over the speed limit and weaving on the roadway.
During the traffic stop Deputy Miller's K-9 alerted on the vehicle and deputies found the two occupants of the vehicle in possession of 5 one pound bags of Marijuana.
The two arrested individuals were identified as:
The driver Charles Lewis age 58 of Manchester, KY charged with:
Speeding 11 mph over the limit
Careless driving
Trafficking in Marijuana more than 5 pounds first offense
The passenger George Minton age 50 of Manchester, KY charged with:
Trafficking in Marijuana 5 pounds or more first offense
These two individuals were lodged in the Laurel County Correctional Center.
Photos of accused attached are courtesy of the Laurel County Correctional Center.
Photo of Contraband seized provided by the Laurel County Sheriff's office.