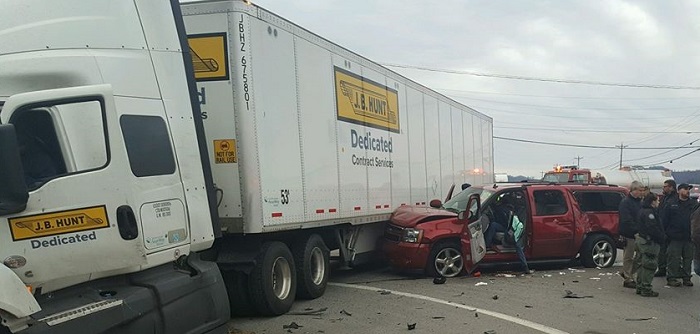 Barbourville, Ky. (Tuesday, December 3, 2019) - The Knox County Sheriff's Department is reporting that: At 4:32 P.M. Knox County Dispatch received a call of an accident with injuries on Highway 25 E northbound at the intersection of Highway 11.
The incident involved a burgundy suburban that had collided with a JB Hunt tractor trailer impacting the left side of the trailer itself.
Before emergency service personnel arrived on scene, a group of Department of Corrections employees from the North Point Correctional Complex stopped and administered first aid to the injured male and female occupants.
Responding shortly thereafter were Knox County Sgt. Carl Frith and Deputy Elijah Broughton along with Knox County EMS and the Barbourville Fire Department.
Both occupants suffered serious injuries:
The woman was stabilized, taken to Barbourville ARH by Knox County EMS, and then flown to the University of Kentucky Medical Center in Lexington.
The man was taken by EMS to Baptist Hospital in Corbin for treatment of his injuries.
During the incident the northbound lane was shutdown and traffic was controlled by the Barbourville Fire Department.
While no one was cited on scene, Sgt. Frith continues the investigation.
**No names were included in this press release.