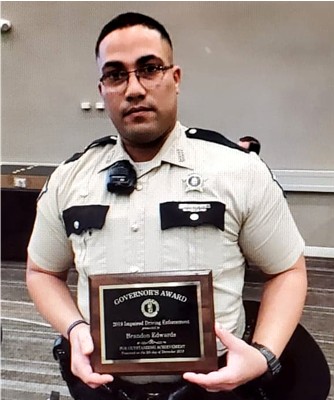 Deputy Brandon Edwards
Lexington, Ky. (December 5, 2019) - Clay County Sheriff's Office is reporting that: On December 5, 2019 Clay County Sheriff Patrick Robinson and Clay County Sheriff K9 Deputy Brandon Edwards attended an award ceremony for the Kentucky Office of Highway Safety.
The Governor's Impaired Driving Enforcement Awards ceremony was held at the Hyatt Regency in Lexington.
Awards were presented to officers with the most driving under the Influence citations in each agency and in each division.
Deputy Brandon Edwards received a Governor's award for the 2019 Impaired Driving Enforcement Campaign on behalf of the Clay County Sheriff's Office.
Pictured is Deputy Brandon Edwards with his award.