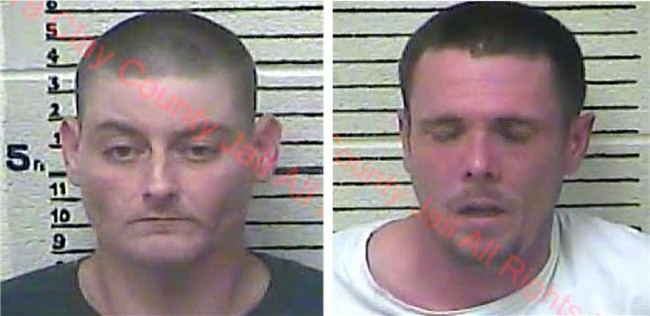 Clay County, Ky. (December 6, 2019) - Sheriff Patrick Robinson is reporting that on December 5, 2019 Clay County Sheriff Detective Jeff Kelsey along with Clay County Chief Deputy Clifton Jones and Deputy Wes Brumley arrested Robert Ashley, 35 of Highway 638 and Ernest White, 37 of North Highway 421.
The arrests occurred at the result of an investigation that began at 4:00 AM on December 5, 2019 when units was dispatched to a complaint of a possible kidnapping involving the above mentioned subjects.
During the investigation it was determined that both subjects had falsely reported the kidnapping with an attempt to extort money from an individual.
Robert Ashley was charged with:
• Failure to Wear Seatbelts
• Operating Motor Vehicle under the Influence of ALC/DRUGS/ETC.
• Possession of Controlled Substance 1st Degree (Methamphetamine)
• Failure to Produce Insurance Card
• Failure of Owner to Maintain required Insurance
• Terroristic Threatening 3rd Degree
• Theft by Extortion
Ernest White was charged with:
• Falsely Reporting Incident
• Theft by Extortion
The photos attached are courtesy of the Clay County Detention Center.
Assisting with investigation and arrest was Kentucky State Police Det. J. Royal. Also, assisting was Troopers with the Kentucky State Police and Manchester City Police.
Sheriff Patrick Robinson states that bogus calls like these tie up manpower that could be used for actual emergencies.