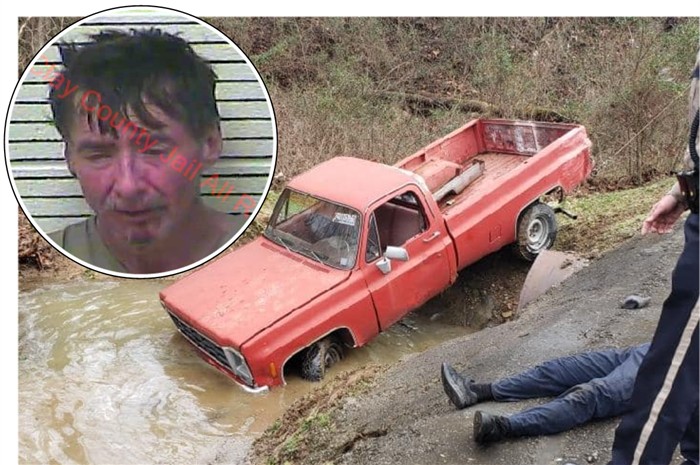 MANCHESTER, KY (January 16, 2020) - The Clay County Sheriff's Office is reporting that: On Wednesday, January 15, 2020 at approximately 4:00 PM Clay County Sheriff Patrick Robinson and CSO Supervisor Dewey Grubb arrested Leonard Holland, 56 of Goose Rock.
The arrest occurred when Sheriff Robinson was dispatched to a complaint of a stolen truck on Rocky Branch Road on Highway 2000 in the Goose Rock area of Clay County.
Upon arrival in the area, Sheriff Robinson located the vehicle being operated on Highway 1524 in front of Goose Rock Elementary.
Once Sheriff Robinson activated his emergency lights to conduct a traffic stop, the driver accelerated with intent to evade Sheriff Robinson.
While the driver was evading Sheriff Robinson, he lost control of the vehicle and struck an embankment. It then proceeded to swerve toward Sheriff Robinson's patrol vehicle attempting to make contact.
The driver then lost control of the vehicle where it came to a stop in a creek. The driver had to be extracted from the vehicle.
Leonard Holland was charged with:
• Operating Motor vehicle under the influence of ALC/DRUGS/ETC
• Operating on Suspended or Revoked Operator license
• Fleeing or Evading Police (Motor Vehicle)
• Wanton Endangerment 1st Degree
• Theft by Unlawful taking- Vehicle
• No Insurance
• Serving Bench Warrant for Court
The photos attached are provided by Clay County Detention Center and Clay County Sheriff Patrick Robinson.
Assisting at the scene was Clay County Sheriff Deputy Cody Blackwell, Manchester City Police Chief Chris Fultz, Manchester City Police Assistant Chief Jason Combs and Manchester City Police Officer Antonio Dodson. .